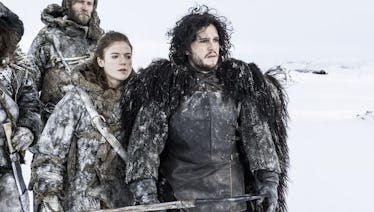 A Freaky Accurate Study Reveals What Your Fave 'GoT' Couple Says About Your Love Life
HBO
Game of Thrones might dominate your Sunday night TV schedule and your Monday morning group chat, but did you realize it can impact your love life, too? Well, according to OkCupid's Game of Thrones study, it can. Let me back up for a second.
On Wednesday, March 27, OkCupid launched a global Game of Thrones badge that fans of the show can prominently display on their profiles. This is the first time a dating app has ever given fans the tools to match based on their favorite TV shows. A rep for OkCupid wrote in a press release that it was inspired to create the feature after users mentioned the show almost two million times. If a user responds "yes" to the question "Do you watch Game of Thrones?", the badge will appear, thus making it easier than ever for fans to match with each other.
To celebrate the new feature, OkCupid also collected data from their GoT-loving users and crunched the numbers on what your on-screen preferences reveal about your off-screen love life. It turns out you can actually predict a lot about your love life based on which Game of Thrones couple you deem their "goals." Whether you're a huge fan of Brienne and Tormund, Jon and Ygritte, Khal Drogo and Daenerys, or Ned and Catelyn, this new study was able to tell you exactly what your favorite Game of Thrones couple.