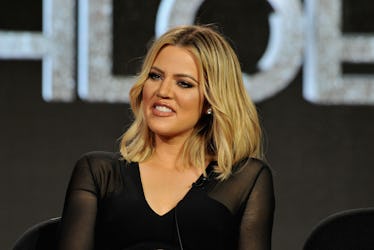 O.J. Simpson Responds To Khloé Kardashian's Pregnancy & The Video Is So Awkward
Jerod Harris/Getty Images Entertainment/Getty Images
A conspiracy theory has been circulating for a while now that Khloé Kardashian has a different father than her other K-Dash sibs. The Revenge Body star has had to fight off speculation in the past that a certain former football star was her dad, but fans on Twitter are still sucked into the speculation. And now the internet is really losing it because O.J. Simpson has responded to Khloé Kardashian's pregnancy by denying the rumor that he is her real father.
What happened was this: Simpson was in Las Vegas over the weekend with his daughter Arnelle. He was approached by a TMZ reporter and asked if congratulations were in order since Khloé had finally announced that she was pregnant. Smooth.
The Juice was clearly caught off-guard by the question, and at first both he and his daughter busted out laughing. But when Arnelle quickly scooted off, things took a turn and got just a tad bit awkward as O.J. stumbled to string together a diplomatic response.
You can watch the full video Of O.J. Simpson response to Khloé Kardashian's pregnancy announcement below.
"Well, for Bob [Kardashian], God bless his soul, yeah," he told TMZ. "I don't know for me. I don't think for me I have nothing to do with it."
Simpson then started babbling on about how the Kardashian sisters are as "nice and terrific" today as they were when they were little, only now they seem to have added "sex appeal" to their resume.
As you can see, things get a little bit awkward.
"I'm happy for them," he explained. And I'm not sure if he's talking about the baby news here or the sex appeal thing, but here's hoping it's the former. "Congratulations to her," Juice then added. "But trust me, I had nothing to do with it. I would be proud if I had anything to do with it, but I don't."
Glad we got that all cleared up!
The rumors all started back when Kris admitted to cheating on Robert in her 2011 memoir Kris Jenner .... And All Things Kardashian. Khloé even addressed the gossip during a 2009 episode of Keeping Up With The Kardashians where she set out to shut down the speculation and prove to us that she wasn't adopted. But even though this all came to a head almost a decade ago, O.J. reportedly offered to take a paternity test in 2016 if Khloé visited him in jail (which reportedly never happened). And now that Khloé is preggers herself, the theory seems to have resurfaced on social media with somewhat of a vengeance.
I love a good conspiracy theory and all, but c'mon, guys — can't a pregnant lady catch a break?
Khloé confirmed that she is expecting three weeks ago with a super-excited pic of her growing belly on Instagram and I, for one, am so, so happy for her!
I mean, just look what she wrote in the caption:
My greatest dream realized! We are having a baby! I had been waiting and wondering but God had a plan all along. He knew what He was doing. I simply had to trust in Him and be patient. I still at times can't believe that our love created life! Thank you to everyone for the love and positive vibes! I am so thankful, excited, nervous, eager, overjoyed and scared all in one! But it's the best bundle of feelings I've ever felt in my life!
So sweet, right? Khloé is so excited to finally be a mama so let's just 86 all the paternity talk and let our girl have her moment now... okuuur?