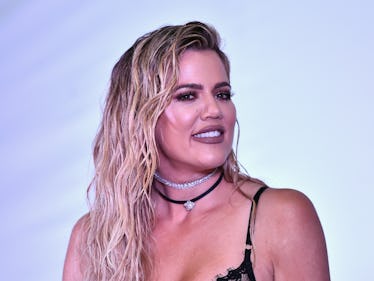 Khloé Kardashian Shared Her Pregnancy Fear With Fans & The Responses Were Perfect
Alberto E. Rodriguez/Getty Images Entertainment/Getty Images
Khloé Kardashian has been feeling the fan love ever since she finally confirmed that she's expecting her first baby with her boyfriend, Tristan Thompson. While fans are used to keeping up with her on television, she, in turn, likes to keep Kardashian loyalists in the loop with her various social media accounts. The mom-to-be is no stranger to a Snap Story, and one of her most recent videos revealed another part of her pregnancy journey. After her recent Snap shared Khloé Kardashian's pregnancy fear, her fans immediately began to rally around the reality star.
Kardashian took to Snapchat on the morning of Sunday Jan. 7 to share with her followers a gift that she had recently received, and reveal one of her fears accompanying her journey to motherhood. As she showed off the "bump bows" (complete with a cute pair of Snapchat puppy ears) that were sent to her, she explained that they are used to smooth down the navel area under clothing and to prevent irritation (who knew?). Karadashian went on to say that this will be helpful for when her belly button turns from an "innie" to an "outie."
Although, it sounds like she's not really too excited to for that transformation to happen. Kardashian revealed that she has "such a phobia with belly buttons."
Apparently, being pregnant brings on the belly button changes, because Kardashian expressed her anxiety about the transformation. She said:
I know that when you're really pregnant, you're innie will become an outie, and, oh my god, I can't even think about that. I'm so grossed out by that and, um, ew.
OK, even as a never-been-pregnant individual, I can totally relate to her on this one — that's a big "no thank you" to belly button switch-a-roos. Kardashian (still sporting the puppy ears) then began to wonder if it's a 100 percent certainty that she'll have to trade-in her innie as her pregnant belly grows:
I'm assuming everyone's belly button does that. I don't know. I wonder if mine has to, like, does it have to become an outie? Holy cow...
"Holy cow," indeed.
So, who came to the rescue to that question? None other than her loyal fans.
Not long after the Snap, Kardashian tweeted that she was so glad she shared her fears, because people were reassuring her that it might not be the case that she sees her navel become an outie.
Some women began sharing their own experiences.
Some people had an innie belly button throughout their entire pregnancy.
Like this person, who said, "...my belly button didn't even 'pop'."
"My innie just went flat... never popped out," another person wrote.
"My belly button never turned from an innie to an outie thank goodness!"
Other fans related to Kardashian's fear of bellybuttons.
"Belly buttons give me chills, girl."
"I'm so happy you said that as well because belly buttons freak me out."
"Belly buttons are the worst, amirite???"
OK, I didn't realize that so many people were freaked out by belly buttons in general, but it's so nice to see that Kardashian is receiving such a sweet show of support. Now, I can't say that I relate to being straight-up afraid of belly buttons, but as I said before, if it were to just switch to an outie, you could definitely expect a freak-out from me. So, I feel you, Khloé.
When it comes to being pregnant, I think it's safe to say that there is not only one way to do it. Everybody's bodies change and grow differently, and that means that each person is allowed to feel however they want about those changes, big and small. If Khloé isn't excited to see her belly button change, that's perfectly fine because that's how she feels. And from the looks of the responses, she is definitely not alone.
It seems like the reassuring words from her followers helped to put her at ease knowing that she might be able to make it to the end of her pregnancy without sporting an outie belly button. She ended her tweet about the kind words expressing her wish that she will keep her innie. She wrote, "Wooooooo here's hoping!!"
So, as she keeps hoping for that innie to stay, her fans will keep following her on Snapchat to see what's next in the mom-to-be's pregnancy journey. Oh, and if that happens to include a Kylie pregnancy confirmation, I wouldn't hate it. Just saying.