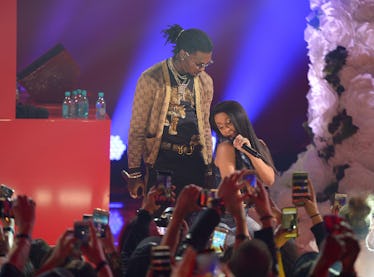 Offset's Sweetest Quotes About Cardi B Prove That They're In It For The Long Haul
Charley Gallay/Getty Images Entertainment/Getty Images
Anyone who's seen Cardi B lately knows that she's just about as pregnant as one can be. But, like the no-nonsense boss that she is, her pregnancy hasn't slowed her down one bit, which is just a testament to what a hardworking hustler she is, and always has been. Needless to say, her overall amazingness hasn't been lost on her bae, Offset. Offset's quotes about Cardi B are particularly touching, considering their respective paths to fame weren't without setbacks. It may come as a surprise to some people that both rappers dealt with their fair share of hardship before their careers took off. Based on how they speak about one another to the public, it seems like a big part of their connection is being able to relate to one another's struggles and subsequent successes.
In an interview with Rolling Stone published earlier this year, Offset opened up about how the first thing he loved about Cardi was her music.
"I was like, 'D***, I am on her,'" Offset told the famed music mag. "I am like, 'S***, I like Cardi B!'" 
The pair became smitten with one another pretty fast, and six months after their first public appearance together at Super Bowl LI at Houston's NRG Stadium in February 2017, the couple secretly married in September of that same year.
However, it's no secret that things between the pair haven't always been perfect. After his iCloud got hacked, a video of Offset with another woman went public, which no doubt caused some waves in his relationship with Cardi. That said, their unwavering support for one another and commitment to their relationship prevailed in the end. Despite his misstep, the connection they share really does speak for itself.
"[Cardi B] is real solid, came from where I came from, did what I did. She's herself, man," Offset told Rolling Stone in the same interview. "I seen her develop from the trenches all the way up, and I like how she did it. I respect her grind as a woman. She came to the game with some gangsta sh**. I like that. I f*** with her. That's my baby."
Offset hit the nail on the head. Cardi definitely "came to the game with some gangsta s***," in the form of an explosively successful single "Bodak Yellow," which chronicled her rise from her first job as a stripper to her current superstardom.
Fortunately for us, Offset's public praise of his wife doesn't stop there. He put Cardi and her inspirational work ethic on blast in an Instagram post this past Valentine's Day.
"Happy valentines day to my queen U rode with me nobody know how hard you worked to become the star you are," wrote Offset. "U smart crazy lovable loyal honest and a hustler what else could I ask We gotta a long way to go but we gone go I love you."
While their relationship might still be considered somewhat fresh, seeing as they've only been together for about a year and a half, I can't help but get the feeling that these two are a match made in hip-hop heaven.
In a birthday post for Cardi on Instagram, Offset harped on all of his bae's strengths yet again.
"Happy Bday, you are amazing to me," wrote Offset. "You got it out da mudd. No help. Nobody was believing at first, but that made you go harder. You're not weak, you take care of your whole family and me. I love you."
These two are living proof that even though no relationship is perfect, that doesn't mean you can't fight to make things work when you're in love. Being in a supportive partnership where you can celebrate where you came from and where you're going must be pretty amazing. There's no doubt that the buzz surrounding these two will continue to grow as Cardi B's due date draws closer, and we couldn't be more pumped.
Check out the "Best of Elite Daily" stream in the Bustle App for more stories just like this!