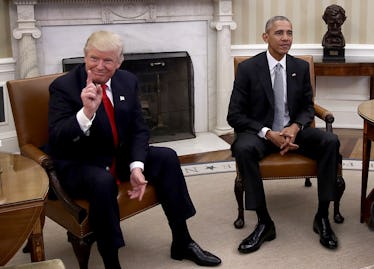 Obama Reportedly Had Intense Feelings About Trump During His Last Days In Office
Win McNamee/Getty Images News/Getty Images
We always knew that the relationship between Barack Obama and Donald Trump was no cakewalk: Each of them has agendas that only complicate the other's, Trump is continually scraping away parts of Obama's legacy, including the Affordable Care Act (ACA) or Deferred Action for Childhood Arrivals (DACA) protections, for example. And — on a more personal level — both of them have taken shots at each other on multiple occasions. But when Obama left the White House, he seemingly went out like a champ. On Inauguration Day, he greeted Trump with all smiles, and before that, he pledged to help him have a smooth transition into office when they met for a meeting at the White House. But now, a new book says that Obama's reaction to his first meeting with Trump was full of "disbelief," and it's pretty interesting to hear.
The revelation is in an upcoming book by President Barack Obama's former national security advisor Ben Rhodes, called The World As It Is: A Memoir of the Obama White House — which hits shelves on June 5. In the novel, Rhodes recalled the "stages" that Obama went through after Trump won the presidential election, as well as Obama and Trump's meeting at the White House on Nov. 10, 2016 that reportedly left the 44th president "somewhat stupefied."
According to People, Rhodes' book claimed that Trump kept bringing up his rally sizes (no surprise there). He also mentioned that the then-president-elect appeared to be open to "Obama's arguments about healthcare, the Iran deal, immigration," which supposedly confused Obama, as he reportedly felt Trump had "almost taken pride in not being attached to a firm position on anything."
After the meeting, Obama told his aides he was having trouble "trying to place [Trump] in American history," which prompted Rhodes to respond by saying: "[Trump] peddles bulls—. That character has always been a part of the American Story. You can see it right back to some of the characters in Huckleberry Finn." Obama reportedly laughed and said, "Maybe that's the best we can hope for."
The shade!
In Obama's defense, though, Trump has been quite the controversial figure over the years, especially when it comes to their own political spats, so his wariness about Trump seems fair (to me, at least). Although Trump has been in office for well over a year, he's seemingly made his attacks against Obama one of the focal points of his presidency. For example, he's already signed a bill to roll back Obama-era regulations for gun checks for people with mental illnesses, and he pulled the United States out of the Paris Climate Accord, a worldwide deal that tackled global warming. Not to mention his efforts to dismantle Obama's signature legislation, the ACA, also known as Obamacare.
Additionally, Trump also attacks Obama on Twitter. On April 3, he posted a message to his page, boasting about a poll by Rasmussen, which showed he had a 50 percent approval rate — a number that was four points higher than where Obama was at the same time in his presidency, according to The Hill. Despite the fact that Rasmussen has historically been "friendlier" to Trump than to Obama (and aside from the fact that Trump's approval ratings have been a bit of a rollercoaster throughout his presidency), he still used the moment to taunt Obama with a harsh nickname. He wrote: "Thank you to Rasmussen for the honest polling. Just hit 50%, which is higher than Cheatin' Obama at the same time in his Administration." OK then.
And as far as Obama's feelings on how much Trump sways on issues, I gotta side with him there, too. Back in February, Trump promised action on gun regulation after the Parkland school shooting — which occurred on Feb. 14, and left 17 students and staff members dead. However, he backpedaled on his promise days later by instead endorsing a proposal to arm teachers.
The bright side of all this is that I'm sure Obama has had enough time to cope with his feelings about Trump and him being in office. And as far as that first meeting, maybe he's forgotten about it already.