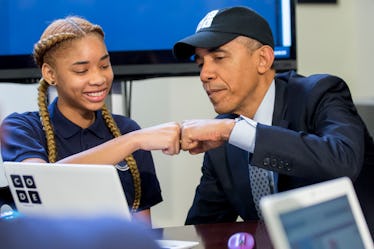 Obama's Name Is Replacing A Confederate Figure At A Majority Black Elementary School
Pool/Getty Images News/Getty Images
An elementary school with a majority of black students will soon have former President Barack Obama's name replace Jefferson Davis' name. The school, located in Jackson, Mississippi is currently named Davis IB Elementary School, which pays homage to the man who became the rebellious Confederacy's only president, shortly before the start of the Civil War. After a meeting on Tuesday night, Oct. 17, the Jackson Public Schools Board of Trustees was informed that the community had voted to change the school's name to Barack Obama Magnet IB Elementary School.
The school's PTA president Janelle Jefferson, told Mississippi Today,
Jefferson Davis, although infamous in his own right, would probably not be too happy about a diverse school promoting the education of the very individuals he fought to keep enslaved being named after him.
During the 2016-17 school year, the school's student population was 96 percent black.
The decision to switch from Davis to Obama was made possible after the board of trustees approved a policy in September that would allow the PTA an option to rename the school. On Oct. 5, student, parents, and school staff voted for their candidate of choice via paper ballots. The PTA president said, per Mississippi Today,
We really wanted to know what they thought. They could relate to Barack Obama because of his achievements, because he looks like them.
Jannelle Jefferson also praised the decision. According to the Jackson Clarion-Ledger, she said the community wanted a new name "to reflect a person who fully represents ideals and public stances consistent with what we want our children to believe about themselves."
Transitioning from one name to another involves a number of different logistics that will affect its timing. The Clarion-Ledger reports that the school with have to work with different partners and sponsors as it raises money to complete the name change. Ultimately, any name change to the school won't be made official until after the 2017-18 school year. Board counsel Dorian Turner told Mississippi Today,
You won't see anything happen in terms of a formal name change until next year. They'll spend the rest of this year doing the formal work to make it happen.
President Obama On Confederate Symbols
The Jackson school's decision to change from one name to the other comes during a year in which discussion over Confederate symbols became a national topic of conversation again.
In August, current President Donald Trump tweeted,
Sad to see the history and culture of our great country being ripped apart with the removal of our beautiful statues and monuments.
In the past, former President Obama spoke about those symbols and weighed in on the debate himself. During one particular speech in 2015, in the wake of a mass shooting that saw a white teenager kill nine church goers in South Carolina, Obama opined,
As a historical artifact it's important, but some have argued that it's just a symbol of heritage that should fly over public places. The fact is, it was a flag that flew over an army that fought to maintain a system of slavery and racial subjugation. So we should under our history, but we should also recognize it sends a bad message to those who were liberated from slavery and oppression.
In the same year, an analysis from the website Vocativ found that there were at least 188 elementary schools named after Confederate figures.
One school in Jackson, Mississippi has decided there should be one less school named after a Confederate figure, however, and is looking to make official its decision to change from Davis IB Elementary School to Barack Obama Magnet IB Elementary School.
The name change is pending the approval of Mississippi Gov. Phil Bryant.