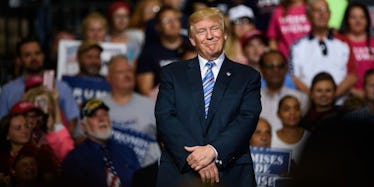 Trump Argues For Keeping Confederate Statues, Calls Removal "Foolish"
Justin Merriman/Getty Images
On Thursday morning, Aug. 17, President Donald Trump made an argument for keeping Confederate monuments in tact. In addition, the president also lamented the removal of monuments that have already been taken down. In one of Trump's tweets about Confederate statues, he said,
Sad to see the history and culture of our great country being ripped apart with the removal of our beautiful statues and monuments.
The president then added,
Robert E Lee, Stonewall Jackson - who's next, Washington, Jefferson? So foolish!
Trump's tweets were a step further from his previous remarks on the subject of removing Confederate statues, which he spoke about during a press conference on Tuesday.
On that occasion, the president similarly asked what tearing down monuments dedicated to Confederate generals who wanted to uphold slavery would mean for other famous American figures who owned slaves.
A day after that press conference, the city of Baltimore removed all four of its statues related to the Confederacy. Around the country, more cities are expected to remove Confederate monuments, as others are considering a similar change.
On Wednesday night, New York Gov. Andrew Cuomo announced via Twitter that his state would be removing statues of Lee and Jackson "because New York stands against racism."
More than 30 states contain monuments related to the Confederacy, according to USA Today, despite the fact that only 11 states fought against the Union during the Civil War.
Here's what the president had to say about those monuments in full on Thursday morning:
The subject of Confederate statues is not only related to the trend of cities reconsidering those monuments' status, but also the specific and imminent removal a statue of Robert E. Lee in Charlottesville, Virginia.
The decision to remove the statue is what prompted the protest of white supremacist groups in Charlottesville, Virginia, this past weekend. Trump's response to those protests, in turn, now includes a defense of monuments to the Confederacy.