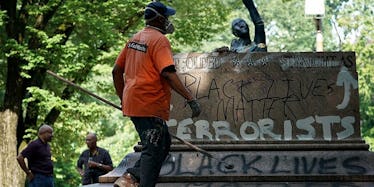 Four More Confederate Monuments Have Been Taken Down And They Won't Be The Last
Win McNamee/Getty Images
Days after violent demonstrations broke out in Virginia as white supremacists protested the removal of a Confederate statue on Saturday, Aug. 12, four similar similar statues were removed in a neighboring state. In the early hours of Wednesday, Aug. 16, Baltimore removed four Confederate monuments, leaving the city with no such statues dedicated to Confederate heroes. After the removal of the monuments, Baltimore Mayor Catherine Pugh suggested something else could be placed at the locations of the statues noting that they were there.
Pugh said,
I do believe that it is a part of our history, and there should be something that says why that statue was once there, what it represented, and more importantly, why it should not be there.
The removal came swiftly, with the city council unanimously voting earlier this week to remove all of the statues and then executing the actual removal of the monuments shortly after. The city had already been considering the removal of the statues, with a mayoral commission on the subject of monument removal having begun last year. That commission recommended keeping two of the four monuments erected. However, after the protests in Virginia, the city council voted to take them all down, NPR reports.
Baltimore is just one of a number of cities that are prepared to take down Confederate monuments in the near future. Monuments in Tampa, Gainesville, Lexington, and Durham are also expected to be taken down, according to CNN. Meanwhile, a number of cities including Dallas, Atlanta, and Jacksonville are also considering removing Confederate monuments.
The city council of Charlottesville, Virginia, also voted to remove a statue dedicated to Confederate Gen. Robert E. Lee. That was the decision that prompted protests that turned violent over the past weekend.
During a controversial press conference on Tuesday, President Donald Trump discussed the protest and the subject of removing Confederate monument, posing the question of where exactly the buck would stop when it comes to removing Confederate statues.
Trump said,
Is it George Washington next week and is it Thomas Jefferson the week after? You have to ask yourself where does it stop?
There's one clear answer after Wednesday: It clearly won't stop at Baltimore.