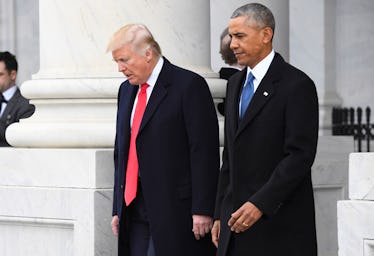 Obama Just Dropped The Mic On Trump-Connected Russia Investigation Indictments
Pool/Getty Images News/Getty Images
With the midterm elections just days away, President Barack Obama is getting real about where he stands on the current state of the White House, and he's not playing around. On Friday, Oct. 26, the 44th POTUS delivered a rousing speech during a Democratic campaign event in Milwaukee, and Obama's comments on Trump-connected Russia investigation indictments during President Trump's time in office are so fired up. TBH, it's getting hard to see with all the shade that's being thrown, but I'm not mad about it.
It's safe to say that Obama was in full-on campaign mode as he hit the trail at an event in Milwaukee on Friday and challenged President Trump's track record. The gloves were off as he asked the crowd, "They promised to take on corruption. Remember that?" Then, without naming any names, Obama referenced the 32 individuals who've requested guilty pleas or been indicted in the Robert Mueller's investigation of possible Russian interference in the 2016 presidential election. He quipped,
They have gone to Washington and just plundered away. In Washington, they have racked up enough indictments to field a football team.
Elite Daily reached out to the White House for comment on Obama's remarks, but did not hear back at the time of publication. Per The Hill, Obama was alluding to four former Trump faithfuls — former Trump campaign adviser George Papadopoulos, former Trump campaign chairman Paul Manafort, former Trump campaign aide Richard Gates, and Trump's former national security adviser, Michael Flynn — who've all either pled guilty or been charged in the investigation.
For his part, President Trump has repeatedly denied collusion and called the investigation a "rigged witch hunt."
To really bring the jabs home, Obama dropped the mic as he added, "Nobody in my administration got indicted."
If you've missed fired-up Obama, the former president kept the shade coming on strong as he then addressed recent reports from The New York Times that Trump's private phone calls are tapped by the Chinese and the Russians, which would be a huge security breach. President Trump has denied that he uses an unsecured iPhone, per Rolling Stone.
"In the last election, it was Hillary's emails. 'This is terrible' … 'This is a national security crisis.' They didn't care about emails," Obama continued, referencing the Trump campaign's fixation on Hillary Clinton's private emails in 2016. "And you know how you know? Because if they did, they'd be up in arms right now as the Chinese are listening to the president's iPhone that he leaves in his golf cart. It turns out, I guess it wasn't that important."
Obama then made his sharpest attack yet of "just making stuff up." He told the audience, "Throughout human history, certainly throughout American history, politicians have exaggerated. But what we have not seen before in our public life is politicians just blatantly, repeatedly, baldly, shamelessly lying. Just making stuff up," per Rolling Stone. As of Sept. 12, 2018, The Washington Post fact checker claims President Trump has made "5,001 false or misleading claims" since taking office. The White House did not immediately reply to Elite Daily's request for comment on that report or Obama's remarks.
Digs aside, Obama ended his speech on a more positive note, telling the crowd to go vote and make their voices heard. "I'm hopeful that despite all the noise, despite all the lies, we're going to come through all that," he said. "We're going to remember who we are, who we're called to be. I'm hopeful because out of this political darkness, I'm seeing a great awakening."