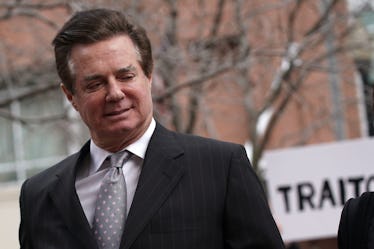 Twitter Is Having A Field Day With Paul Manafort's Plea Deal In His Second Trial
Alex Wong/Getty Images News/Getty Images
The day has finally come — Paul Manafort reportedly just flipped. According to multiple reports on Sept. 14, President Donald Trump's former campaign chairman reached a plea deal with FBI Special Counsel Robert Mueller, who is heading the investigation into Russian interference in the 2016 presidential election, as well as possible collusion by members of Trump's campaign with Moscow. Elite Daily reached out to a lawyer for Manafort and to the office of the special counsel but did not immediately hear back. The news prompted an outpouring of opinions on social media, and the tweets about Paul Manafort's plea deal are getting pretty wild.
According to CNN, the plea deal is a cooperation agreement. Under the terms of the deal, Manafort will reportedly plead guilty to one count of conspiracy against the United States and one count of conspiracy to obstruct justice by witness tampering, give up his right of appeal and the right to profit from his story, and cooperate with the Department of Justice (DOJ). Though the scope of the cooperation has yet to be revealed, Manafort has already reportedly started to give information to the DOJ. In exchange, Manafort will reportedly be able to avoid his second federal criminal trial, which was set to begin next week. The remaining charges against him, stemming from a case in Virginia, will be dropped, according to CNBC. With the agreement, the cap on his total time in prison is 10 years.
Once the long-awaited news broke, people ran to Twitter to express their thoughts about the case and its outcome, and they're serious stances.
"Manafort is guilty and he admits it. Now he's bringing you down Trump!!!!! Luv it," one user quipped.
Another person called on Trump to resign now that Manafort has turned on him, too.
Though many eyes are on Trump, White House Press Secretary Sarah Sanders told CNN after the news of the plea agreement, "This had absolutely nothing to do with the President or his victorious 2016 Presidential campaign. It is totally unrelated."
President Trump himself has yet to speak out about the latest news, but he previously hadn't seemed too bothered by the investigation into Manafort. Although the White House did, in fact, distance itself from Manafort, Trump has continually offered up warm words to him throughout his trial. Following the news that Manafort had been convicted of various charges back in August, Trump told reporters that his former chairman was a "good man," according to Business Insider.
He went on to say that he felt "very badly" for Manafort in a tweet shared to his account the following day, Aug. 22. Trump also praised Manafort for refusing to take a plea deal, unlike his former attorney Michael Cohen, who plead guilty to several charges the same month and admitted making hush-money payments to two women who claimed they had had extramarital affairs with the president. The president has denied those claims.
In addition to Cohen and Manafort, other Trump insiders, like former campaign aides George Papadopoulos and Rick Gates, have reportedly agreed to cooperate in the Mueller investigation. Although the situation is an ongoing matter, with so many people from Trump's inner circle going down, it looks like there are some wild turns to come in this saga. And Twitter will, of course, be right there along the way.