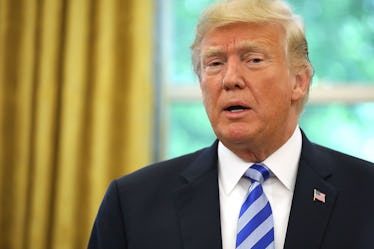 Donald Trump Said Don McGahn's Reported Departure Isn't Due To The "Russia Witch Hunt"
Chip Somodevilla/Getty Images News/Getty Images
As the revolving door on the White House keeps on spinning, another Trump employee is on his way out. On Wednesday, Aug. 29, it was announced that top White house lawyer Don McGahn would reportedly be leaving his post, which followed reports that he cooperated with FBI Special Counsel Robert Mueller's investigation into possible collusion with Russia during the 2016 election. Despite speculation, Donald Trump's tweet about Don McGahn and the "Russia witch hunt" says the lawyer's exit has nothing to do with the investigation. Elite Daily reached out to the White House for further comment on President Trump's announcement of McGahn's reported departure but did not hear back at the time of publication
Before Trump announced on Twitter that McGahn would reportedly be leaving come fall, there were reports that the White House lawyer had fully cooperated with Mueller's Russia investigation, and he provided 30 hours of interviews, according to CNN. The network also reported that Trump was "unsettled" by the extent of McGahn's cooperation, saying that although he knew about the interviews, Trump was unaware "the conversations stretched for 30 hours or that his legal team didn't conduct a full debriefing with McGahn after the fact." Elite Daily reached out to the White House for a comment on McGahn's interviews with Mueller but didn't hear back by the time of publication.
On Thursday, Aug. 30, however, the president tweeted that his decision to let McGahn go had nothing at all to do with the "Rigged Russia Witch Hunt." Trump wrote,
The Rigged Russia Witch Hunt did not come into play, even a little bit, with respect to my decision on Don McGahn!
Despite Trump's claim that McGahn's exit has nothing to do with Mueller's investigation, he didn't hide his disdain for news that McGahn had spent over 30 hours talking to Mueller. Trump lashed out at Mueller and his "group of Angry Democratic Thugs" on Twitter. The president wrote in an Aug. 20 tweet,
Disgraced and discredited Bob Mueller and his whole group of Angry Democrat Thugs spent over 30 hours with the White House Councel, only with my approval, for purposes of transparency. Anybody needing that much time when they know there is no Russian Collusion is just someone....
In a second tweet, Trump reinforced his position that it's the Democrats who are corrupt and even went back to the Hillary Clinton email. "They are enjoying ruining people's lives and REFUSE to look at the real corruption on the Democratic side," he wrote.
A little over a week after Trump's tweetstorm, the president took to Twitter again to let the public know that McGahn would reportedly be leaving his post at the White House in the fall. Elite Daily reached out to the White House for comment at the time of the report, but did not hear back by time of publication. Trump wrote in his Aug. 29 tweet,
White House Counsel Don McGahn will be leaving his position in the fall, shortly after the confirmation (hopefully) of Judge Brett Kavanaugh to the United States Supreme Court. I have worked with Don for a long time and truly appreciate his service!
While Trump might stick to the fact that the "witch hunt" has nothing to do with McGahn's reported departure, the timing seems to say something else.