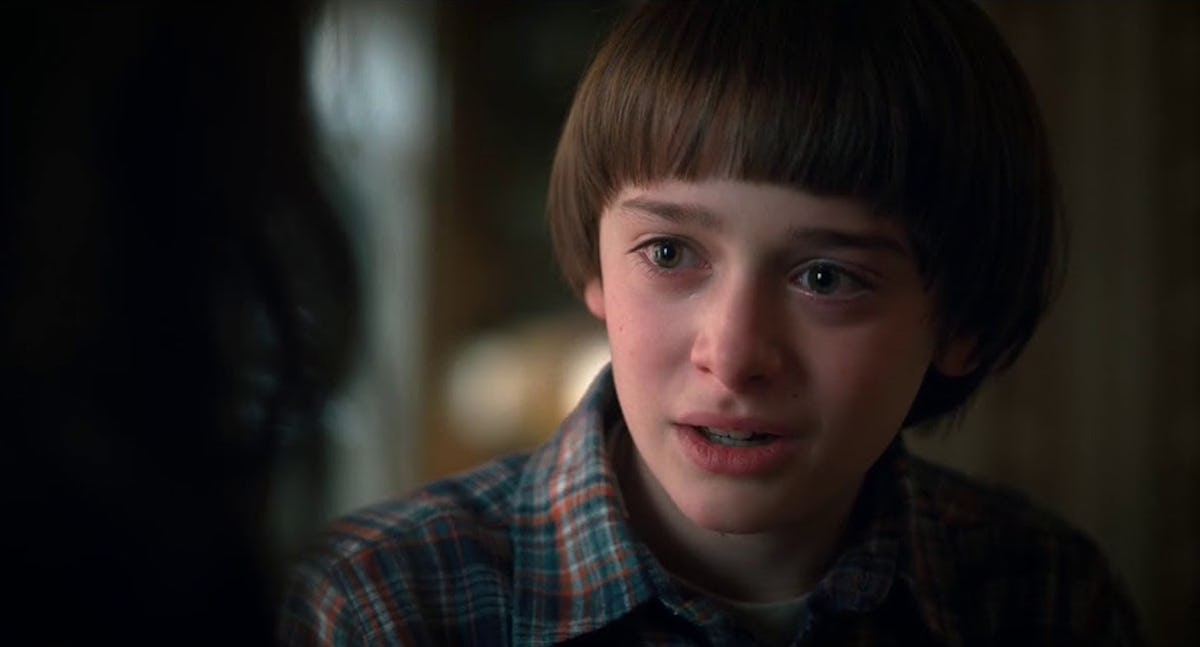 Will Byers Was Snubbed By The Golden Globes & 'Stranger Things' Fans Are Going Wild
Netflix
Stranger Things got some of the recognition it deserved at the Golden Globes nominations announcement on Monday morning, but fans are still upset over one major snub. Pretty much everyone who watched the second season of Stranger Things earlier this year would agree that the central and most impressive performance was that of Noah Schnapp as Will Byers, but Schnapp is getting no love from the upcoming awards ceremony. So now, Stranger Things fans are mad Noah Schnapp got snubbed by the Golden Globes, and are letting their feelings be known.
Noah Schnapp's character of Will Byers was not really in Season 1 all that much, spending most of his time off-screen as a captive of the Demogorgon in the mysterious realm of the Upside Down, but he stepped up in a huge way in Season 2. With Will finally been rescued from the Upside Down and returned to his family and friends, we got to really meet him for the first time. Oh, and also he is still plagued by this creepy, alien beast from the Upside Down. Through the harrowing season, Noah Schnapp delivered some of the most intense scenes of the year with talent an unbelievable level of talent — I mean, remember that seizure scene at the end? Who wasn't freaking out while watching that? But despite delivering a knockout performance, Schnapp is not up for an individual award at the Golden Globes this year.
And obviously, the Stranger Things fandom is not happy about the star of the most recent season getting ignored. Check out some of the reactions to Noah Schnapp's Golden Globes snub below:
Noah Schnapp may have not gotten the recognition he deserved at the Golden Globes this year, but thankfully, Stranger Things overall did get some love. The Netflix sci-fi series is nominated for two awards at the upcoming ceremony: David Harbour (who played police chief Jim Hopper) is nominated for Best Supporting Actor, and the whole second season is up for Best Television Series - Drama.
But even with two nominations, Stranger Things might find itself with a bit of a hard time coming out with a Golden Globe. Although the series is definitely one of the most popular shows among fans, it is going up against the critically beloved big wigs in its nominated categories. Stranger Things will have to beat out awards season juggernauts like Game of Thrones and The Crown for Best TV Drama, not to mention the frontrunner The Handmaid's Tale, which is fresh off of sweeping the Emmys. And David Harbour is up against another recent Emmy winner: Alexander Skarsgård, again nominated for Big Little Lies. The Emmys performance of Stranger Things this year is also disheartening for fans, as the show was up for five awards but left with none.
I think that a lot of Stranger Things fans were assuming that a nomination for Noah Schnapp would be the show's best bet at winning a Golden Globe, given the strength of his performance in this season, but now it looks like all that hope rests on David Harbour or on the show pulling out the big Best TV Drama win. It's actually a similar situation to what Stranger Things was in last year at the Golden Globes, when it also secured two nominations, one for Best TV Drama and another for Best Actress for Winona Ryder. But it lost both categories to The Crown back then. Let's just hope that doesn't happen again.
The 75th Annual Golden Globe Awards will air on January 7, 2018 at 8 p.m. ET on NBC. Seth Meyers will be the host.