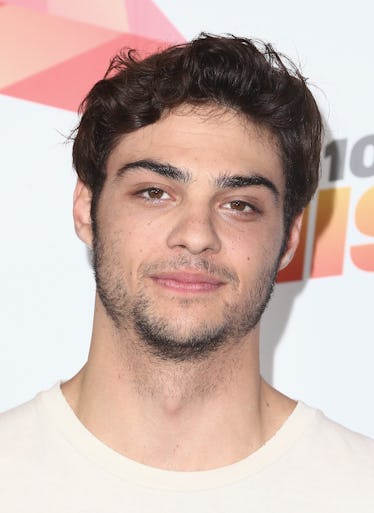 Noah Centineo's Story About Being Catfished Will Really Break Your Heart
Tommaso Boddi/Getty Images Entertainment/Getty Images
I think we can all agree that Noah Centineo is now officially the internet's boyfriend. He stole our hearts in To All The Boys I've Loved Before, then stole them yet again in Sierra Burgess Is A Loser, and I am eternally grateful for whoever was in charge of casting for both Netflix films. Even though we all would love him to be kickin' it boyfriend style with co-star Lana Condor, he's still seemingly single and ready to mingle. But don't think that you can just find him on a dating app, because Noah Centineo's story about being catfished proves that he's probably pretty damn wary of online relationships.
On Sept. 7, the cast of Sierra Burgess Is a Loser visited the studios of Young Hollywood, where they played a game of "Never Have I Ever," because there's literally no better way to get to know a person's most personal stories than that game. When the question, "Have you ever been catfished?" comes up, actresses and co-stars Shannon Purser and Kristine Froseth both admit that they never have. But Noah Centineo has a different story, and it's one that's probably pretty familiar to a lot of people who give online dating a try.
Centineo said:
Well, it's just like, in this day and age, it's near impossible not to be. I developed this, like, what I thought was like, you know, an intimate relationship with someone. And we were just like talking and really getting to know each other, and it turned out that they just were not who I thought they were. I still don't know to this day who they were.
I'm sorry, but who would do that to THE PUREST HUMAN OF THEM ALL?
That is the face of a man who is crushed, y'all.
You can watch it all in the video below (and, spoiler alert, he also talks about his encounters with the paranormal, and it is creepy AF):
But I don't think Centineo is having too hard of a time getting himself dates (even though all we really want is for him and Condor to be endgame). In a Sept. 6 appearance on BuzzFeed News' Twitter show, AM to DM, he opened up about what dating is like now that he's found fame.
"It's interesting. Nothing's changed as far as girls," he said. "It's just that now people might know who I am previously, so you have to vet the intentions. Like, 'Oh wow, you're gorgeous, but you never would've been talking to me unless I had a film out.'"
Sort of beg to differ on that one, but I digress.
He also talked about how strange it is now that he gets noticed after becoming something of a household name. "I got back to my hotel yesterday and there was a small army of people waiting outside," Centineo said. "That was the first time that had ever happened. I wasn't expecting it, and it was really humbling how much love these people had."
Well, if I were you, Noah, I'd anticipate that happening a lot more.
Just a hunch I have.