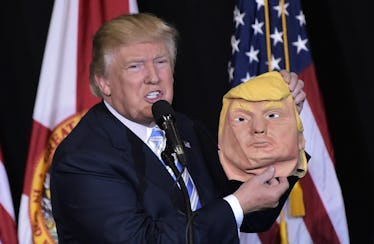 These Donald Trump Masks Will Help Make Your Halloween Costume Even Scarier
MANDEL NGAN/AFP/Getty Images
There are now less than two weeks until the beloved holiday of Halloween. With the exception of celebrities who plan out their costumes months in advance, it's safe to say there's a good amount of people who still don't have their costume figured out, and are probably putting it off like a daunting chore. People often look to cultural references or notable looks for Halloween costume, but if you want to keep it real simple and real scary, here are nine Donald Trump Halloween masks if you want to make the holiday great again. Forget zombies and vampires, what could be spookier than a bunch of Donald Trumps roaming the streets on Halloween?
The Trump mask was a popular pick last year as well. In 2016, the Spirit Halloween costume chain conducted a poll that revealed that more people wanted to dress up as Trump than the Democratic nominee for president, Hillary Clinton. The survey revealed the number one reason for impersonating Trump was to be funny, while 25 percent of Americans wanted to dress up as Trump to scare America. Mind you, this was right before the 2016 election, before any of us knew what scary things were actually coming. This year, dressing up as Trump can be a completely different motivation. A hate-inspired costume, a form of ridicule or mocking, or, in fact, it could very well be a scary costume to frighten Americans and remind us of our elected leader in the Oval Office. Whatever the motivation (and I really, really hope you're only using this for positive motivations), you can dress up as Trump if you want, and here's how to do it.
Arguably the creepiest of all the masks is the mouth-open Trump masks.
If you really want to be in the spooky spirit of the holiday, this is the scariest Trump mask by far. With it's poked-out eyes and angry facial expression, it will be hard for anyone to maintain eye contact with you for too long. You can find these masks, among other ones, on Amazon.
Donald Trump Mask, $32, Amazon | Donald Trump Mask 2, $17, Amazon
If you want to go for a Trump that is equally as creepy but more contorted and outrageous, go for these ones.
These two masks are still recognizably Trump, but play up his features a bit. The first masks has more of a wax figure and plastic surgery essence, while the second really pokes fun at one of his more defining physical attributes, the orange spray tan.
Donald Trump Deluxe Mask, $11, Amazon | Donald Trump Orange Mask, $18, Amazon
If you want to get as close to the "real Trump" as possible, here are some Latex masks that look the most like Trump.
While the creepy and contorted versions of Trump can be funny, picking a mask that looks the most like him might freak people out the most. You can find a latex mask (that also weirdly resembles Alec Baldwin) at Amazon for $14 and at Spirit Halloween for $22.
Donald Trump Latex Mask, $14, Amazon | Donald Trump Mask, $22, Spirit Halloween
If none of those make the cut, try my personal favorite: Giant Trump head masks.
They are almost as ridiculous as antics of the Trump administration, but they are just obnoxious enough to be Halloween-acceptable. You can find a giant Trump mask for $13 at both Halloween Express and Party City.
Oversized President Mask, $13, Party City
Last but not least, if you're the type of person that likes to go full-out for Halloween, there is a Donald Trump starter pack.
Maybe the mask isn't enough for you. If you want to go all out "Make America Great Again" head-to-toe, this costume is equipped with a mask, a hat with the slogan, golf ball, bumper stick, and pin.
Donald Trump Costume Set, $15, Amazon
Good luck at your party!