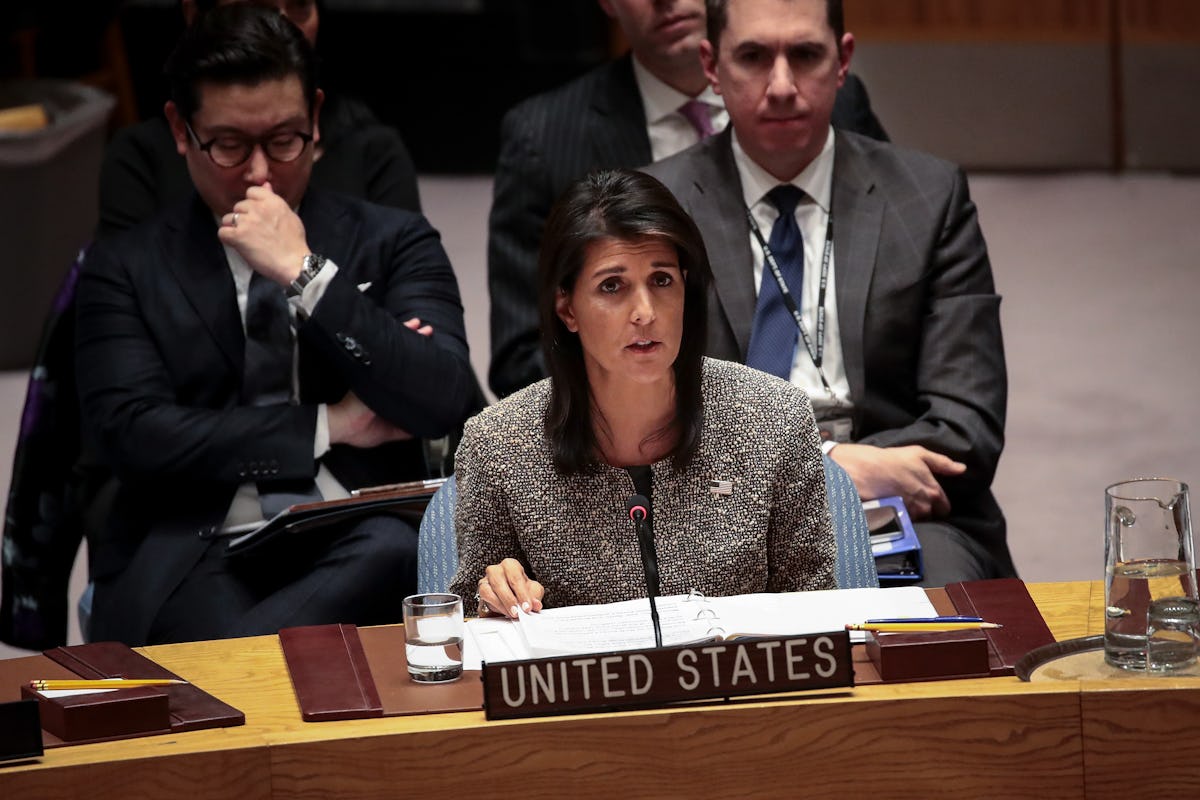 Top Trump Official Says That Women Who Accused Trump Of Assault "Should Be Heard"
Drew Angerer/Getty Images News/Getty Images
Sexual misconduct has taken over headlines for months, and now, a key member of the Trump administration has revealed an unexpected stance on the issue. Nikki Haley, the U.S. Ambassador to the United Nations, sat down with CBS's John Dickerson, expressing support for women who have vocalized their stories of sexual assault. On Dec. 10, Nikki Haley said Trump's accusers should be heard, and it's certainly a different viewpoint than the one the White House promotes.
On Sunday's Face The Nation, Haley explained that all women's stories should be acknowledged, even if they're accusing the leader of our country. When asked expressly about how people should "assess" those who have accused Trump of harassment or assault, Haley said, "women who accuse anyone should be heard. They should be heard, and they should be dealt with."
Haley did not stop there. She offered support to the victims who have come forward with their alleged experiences, saying, "I'm proud of their strength. I'm proud of their courage." When asked if this issue came to a close with Trump's election, she said, "That's for the people to decide. I know that he was elected, but women should always feel comfortable coming forward, and we should all be willing to listen to them."
It's a very different take than the official stance by the White House. White House Press Secretary Sarah Huckabee Sanders has stated that the official White House position is that the women who have accused President Donald Trump of sexual misconduct are lying — and that the country settled this debate by electing him into office. In late October, Sanders responded to a question about the nearly 20 women who had accused Trump of misconduct. "Is the official White House position that all of these women are lying?" a reporter asked.
"Yeah, we've been clear on that from the beginning, and the president's spoken on it," Sanders replied.
In the wake of Haley's comments, people took to Twitter to express their views — and there were plenty.
Some people, however, did not side with Haley.
Multiple women accused President Trump of sexual misconduct before he was elected, including allegations of groping and sexual assault, according to The Atlantic. Although Trump has denied the claims, the president did apologize for his comments in the now-infamous Access Hollywood tape, which he considered to be "locker room talk." One of Trump's accusers, former Apprentice contestant Summer Zervos, is suing the president for defamation for branding her a liar over her allegations against him. A New York State judge is currently deciding whether the case will be brought to trial.
Haley's comments come at a moment when controversy and allegations have surrounded not only the president, but other political figures, media personalities, and Hollywood elite. As more and more headlines continue to surface about resignations and allegations, one story really seemed to outshine others: TIME's 2017 person of the year, which was revealed on Dec. 6. This year, "the Silence Breakers," the victims who took a stand against sexual harassment and refused to accept this behavior as the new norm, were given the title.
The 2017 title took a bit of a turn and focused not on one individual, but several who had spoken out this year after coming forward with their alleged experiences of sexual harassment. Some of the women featured on the magazine's cover include actress Ashley Judd, former Uber engineer Susan Fowler, and singer Taylor Swift. Many others, such as actress Selma Blair and Senator Sara Gelser, were quoted in the piece. It was certainly a powerful selection, to say the least.
"The galvanizing actions of the women on our cover… along with those of hundreds of others, and of many men as well, have unleashed one of the highest-velocity shifts in our culture since the 1960s," a statement from TIME editor-in-chief Edward Felsenthal read.
The voices behind the conversation weren't only women. Actor Terry Crews shared his story of alleged sexual harassment against a Hollywood agent he claims groped him. "People were saying, 'You should have beaten him up.' I'm like, 'Why is nobody questioning him?' Nobody questions the predator," Crews told Time. "You know why? Because they just expect it. And I expect it. And I just said, 'No more.' Why are you questioning the victim here? Let's flip it. Let's talk about what the predator is doing."
News will continue to circulate about sexual assault abusers and victims, and people will continue to take different stances on the issue. But one thing we can all agree upon is that everyone deserves to be treated with respect, and inappropriate behavior cannot be tolerated any longer.