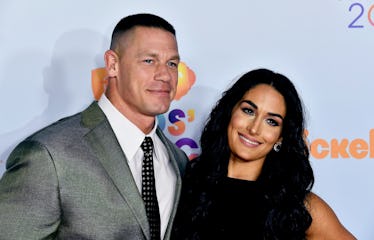 Nikki Bella Revealed The One Thing She Needs In Order To Get Back With John Cena
Frazer Harrison/Getty Images
In an internet nutshell, professional wrestlers and entertainers John Cena and Nikki Bella were together for six years before breaking up this spring just before their planned wedding. Their relationship played out on Bella's show, Total Bellas, and both parties have never been shy about letting the public in on what's up with their feelings and relationship. Honestly, they both seem really, really sad. However, it now kinda looks like Nikki Bella and John Cena will get back together "with time," according to Bella herself. Their relationship has been a wild ride to hang on to, but fans are doing their best.
On April 15, Bella and Cena released a statement to US Weekly that said, "While this decision was a difficult one, we continue to have a great deal of love and respect for one another. We ask that you respect our privacy during this time in our lives." Since then, both Cena and Bella have gone on the record stating they still wish things could have worked out differently.
In a recent interview at a Total Bellas junket, Bella spoke with Entertainment Tonight about the odds of her and Cena getting back together. She said, "Time. It's going to take time. So, honestly, only time can tell." She continued,
John and I, we absolutely love each other and we care about each other a lot. We are best friends and, right now, we're both giving each other time separately and maybe there's hope that we reunite in the future.
She also told Entertainment Tonight Cena is "the love of her life." Bella explained, "John is such an amazing man. He really is the love of my life. I truly hope one day that we can work it out and get back together. I think there is hope."
I AM SO CONFUSED.
One of the main sources of conflict for Cena and Bella has been their indecision on children one day. Bella has always been team babies, whereas Cena has openly admitted on camera and off that he isn't up for becoming a dad. However, since their breakup, it looks like Cena has totally changed his tune.
During an interview on Today, Cena said he wants to "be the father of her children." He said, "I love her. I want to be with her. I want to make her my wife. I want to be the father of her children. I just want us to work," adding:
It's up and it's down. It's been incredibly reflective, which is amazing, but it's very difficult. I had my heart broken out of nowhere … or for me it was out of nowhere. Anyone who has experienced that knows it comes with a series of bad feelings.
Bella also commented on what she thinks it will be like for fans to see their breakup play out on TV. During a red carpet interview at the 2018 NBCUniversal Upfront, she said:
I have to say it's going to be definitely very hard to relive and it's hard to document it, but at the same time, the Bella Army has been on this incredible journey with John and I and you know all the viewers at E! and I feel like I would be cheating them if I was to take away all that footage because it's real life. We go through these ups and downs and we wedding plan — we could be on cloud nine, but then sometimes it makes you just face a lot of things that are going on in your life and you truly see that this season.
With any luck, they're on their way back up in no time.
Check out the entire Gen Why series and other videos on Facebook and the Bustle app across Apple TV, Roku, and Amazon Fire TV.