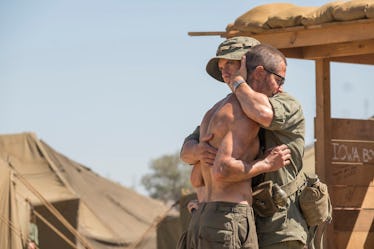 This Major 'This Is Us' Twist Left Fans Completely Dumbfounded
Ron Batzdorff/NBC
This Is Us isn't clear about much, but in recent weeks, the show only emphasized that Jack was certain he lost his brother Nicky in Vietnam. After transferring to Jack's unit for two weeks, Nicky began cleansing his systems of drugs, but Nov. 27's episode detailed his sharp decline, which wasn't much of a surprise. However, the hour then ended with a major bombshell about the younger Pearson's status. Episode 9 revealed that his name isn't included on a database of soldiers lost during the Vietnam War, and it seriously looks like Nicky is alive in This Is Us's 2018 timeline.
In this week's episode, Kevin's long-awaited visit to Jack's Vietnamese fishing village turned out to be a bit of a dud. When Kevin's tour guide arranged a meeting with a historian who lived there during the war, an immediate theory was that the older man was the son of Jack's mystery woman. However, it looks like even This Is Us has gotten tired of its heartwarming coincidences, because when Kevin (Justin Hartley) showed the man the photo of Jack (Milo Ventimiglia) and the woman, he didn't recognize either of them. As seen with Kevin and Zoe's visit with Jack's war buddy Robinson, the trip initially seemed like a total waste of time.
Moments before their departure, their guide stirred things up, telling Kevin that the name Nicholas Pearson wasn't in a database of deceased soldiers. He pointed out that although he could've died in Vietnam, Nicky (Michael Angarano) definitely didn't pass away as a result of the war. Kevin was insistent that Nicky died while fighting, and given that Jack seemingly maintained that belief until his own death, why wouldn't that be true? As the guide's revelation played alongside a war flashback of a boat explosion presumably harming a relapsing Nicky, viewers were especially confused, as it looked like we were finally witnessing his death.
However, instead of clarifying who was hurt in the accident, the episode's closing moments featured an older-looking man whose face was hidden in the shadows. As the man moved around his home and sat down, the camera cut to his mail, showing a letter addressed to Nicholas Pearson's Pennsylvania home.
Surprise, kids, Uncle Nicky's alive! Unless the moment is a flashback to an earlier but still fairly recent time, all clues point toward a 70-year-old Nicky living in Bradford, about three hours away from his hometown of Pittsburgh. Seeing as his real name is on his mail, it's not like he's living completely off the grid, but something is definitely off about this situation. How did Nicky get out of Vietnam, and why has he seemingly chosen a life on his own rather than with Jack's oblivious family?
Unless Jack is better at keeping secrets than we thought, perhaps he always assumed that this mysterious boat explosion was the end of his brother. Maybe Nicky purposely left the camp before the explosion or even caused it as a distraction, choosing to turn his back on Jack. With Nicky presumed dead and Jack staying stoic about the loss and fighting in the war, future Pearsons would've never had a reason to learn more about Nicky. If Kevin wasn't in a Vietnam War movie that probed questions about Jack, he and the rest of the family probably would have let sleeping dogs lie and accepted Jack's past as a mystery.
The theory that Nicky actually went AWOL during the war and survived isn't new, but it looks like the fans who originally predicted this now have guesses worth a second look. In true This Is Us fashion, start placing bets toward Kevin sharing the news with the others at a major family event.
Season 3 of This Is Us continues in 2019.