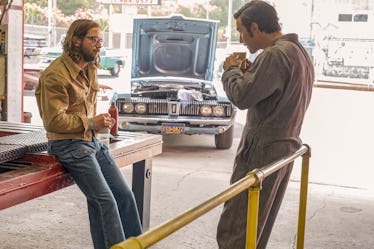 'This Is Us' Fans Are Desperate For The Truth About Nicky After This Week's Episode
Ron Batzdorff/NBC
Season 3 of This Is Us has finally begun its exploration Jack's service in the Vietnam War, and in case you were still holding out hope that he was just a mechanic, the episode "Vietnam" shot down that possibility. Although his irregular heartbeat excluded Jack from the initial draft, he enlisted voluntarily after hearing about his brother Nicky's struggles in Vietnam. Following its showcase of the brothers' pre-war lives, "Vietnam" ended with a look at Nicky as a soldier in 1971, looking dirty and discouraged but clearly physically well. Is Nicky still alive on This Is Us? Although the show's later timeline convinced us that his death is imminent, fans are thinking otherwise.
Tracking the course of events that brought both Pearson brothers to Vietnam, Oct. 16's episode focused on Jack's lifelong responsibility of playing Superman to the weaker Nicky (Michael Angarano). As adults, Jack chose to go to Vietnam after Nicky was "Article 15-ed," meaning that he was charged with reckless endangerment to himself and fellow soldiers. Nicky's letter explaining the offense was filled with hopelessness, prompting Jack to dance around his medical condition and join the war just to know that Nicky was nearby.
Leading up to the reveal of Nicky at his army camp, the episode definitely hinted that something was seriously wrong with him. However, when a frustrated Nicky saw Jack there, he seemed no different than a teenager fed up with his everyday life. So, when does he die? Did he even really pass away in the war?
Although the show hasn't shied away from distinctly saying that Nicky died in Vietnam, theories about him surviving have circulated for awhile, suggesting that the Nicky Jack knew and loved died in the war and he returned to the U.S. as a changed man. After seeing "Vietnam," fans on Twitter are even sharing their thoughts about how Nicky may have survived the war but in an incompetent way. However, in the Season 3 premiere, Jack seemed to shut down those rumors when he told Rebecca on their first date that he just lost his brother in Vietnam. Basically, cross the possibility of present-day Kevin tracking down an elderly, long-lost Uncle Nick off your list of insane This Is Us guesses.
Although Nicky seemed on the verge of a breakdown, the show has hinted that Jack's arrival started a smoother period for him. We know that Jack had a photo of himself and his brother with a group of other soldiers, implying that Jack's quick 24-hour visit with Nicky eventually turned into a permanent position alongside him. The existence of the photo could also mean that Jack and Nicky were together in Vietnam for awhile before the latter dies. Jack was also home by December 1972, meaning he was still fighting in Vietnam for about a year after reuniting with Nicky in November 1971.
We shouldn't really hope for a surprise twist about Nicky's fate, but Jack's poor brother seemed destined for an unfortunate end from the start. The episode's focus on Nicky and the other babies in the hospital nursery was bittersweet, reminding us that all of these boys were eventually drafted for Vietnam because of their "lucky" birthdate. He may be alive in the Vietnam timeline for now, but it looks like there's still no chance of Nicky making it out of the war alive.
Season 3 of This Is Us continues on Tuesday, Oct. 23, at 9 p.m. ET on NBC.