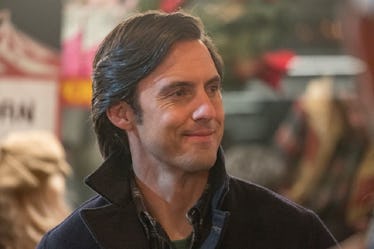 Here's What Fans Should Know About The Characters In The 'This Is Us' Season 3 Opener
NBC / Ron Batzdorff
The Season 3 premiere of This Is Us opened with a focus on a stranger, showing a man in the 1970s calling his mother and traveling to his job as a football player. A quick glimpse of the player's uniform proved that it wasn't Miguel, an easy but totally logical conclusion, but someone named Harris. Since we're not all up to date with our '70s football history, who is Harris on This Is Us? It turns out that the opening segment was a homage to Pittsburgh sports history.
Although fans waited with bated breath for a grander connection of Harris to the Pearson clan, the inclusion of the character seems to have only been a subtle shoutout to Steelers fans as devout as the Big Three. After he was seen entering a football stadium in the trippy opener that jumped across time for all of the Pearsons, men in the bar where Rebecca and Jack met commented on a football game playing on TV and how they loved a certain player. Throughout Rebecca and Jack's carnival date, men asked Jack if they caught the big game, and Rebecca, clearly not indoctrinated into the Steelers fandom yet, didn't know what they mean.
Same, girl, same.
Luckily, a Reddit user came to the rescue for what the reference meant before the show revealed the truth. One fan referred others to something known in Steelers canon as the Immaculate Reception. As seen in retro footage during the last few minutes of the premiere episode "Nine Bucks," Steelers fullback Franco Harris scooped up the ball after it bounced off the helmet of another player. He scored the game-winning touchdown at the Steelers' Three Rivers Stadium in a December 1972 game just two days before Christmas.
Other than This Is Us not really understanding that Rebecca and Jack's carnival date probably wasn't appropriate for December in Pittsburgh, incorporating real history is a sweet move. It emphasizes the eerie, cyclical importance of football in Rebecca and Jack's relationship, as they conceived the triplets on Super Bowl Sunday and Jack then died in the early hours of Super Bowl Monday 18 years later. Whether you find it corny or meant to be, Harris's story added a nice touch to Mama and Papa Pearson's origin story.
In addition to extremely premature guesses that the new character was a young Miguel, fans not in the know about Harris's identity also believed that the man could be Deja's father. At a closer glance, the timing of that possibility just doesn't work — Deja's mother was a teenager in the early 2000s when she had her baby, and the show always implied that Deja's father was the same age. Plus, as This Is Us later revealed, Deja figured out as a young girl that her father was still in their neighborhood, working at a bike shop that she and Shauna once passed.
This Easter egg wasn't quite the bombshell we're conditioned to expect from This Is Us, but if anything, it's more proof that Jack and Rebecca were just meant to be. Season 3 of This Is Us continues on Tuesday, Oct. 2, at 9 p.m. ET on NBC.