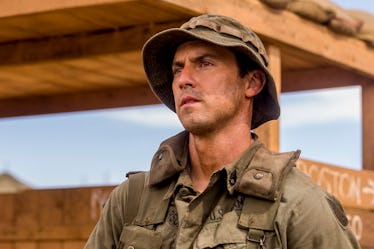 This Character From Jack's Past On 'This Is Us' Influenced Him As A Dad In A Big Way
Ron Batzdorff / NBC
On This Is Us, the success of Kevin's recent Vietnam War movie has inspired him to start researching his father's time in Vietnam and figure out why Jack was so tight-lipped about the experience throughout his life. Last week, Kevin tracked down the email address of one of Jack's old army buddies, and while viewers caught a glimpse of the elderly man receiving Kevin's message, the episode "Vietnam" introduced the character when he knew Jack. Who is Robinson on This Is Us? The soldier actually influenced Jack's role as a dad in a sweet way.
Seen in the present day with a cane, Robinson appeared in the show's 1971 flashback fighting in Vietnam alongside Jack, who was the head sergeant of their unit. As the episode kicked off, Jack and Robinson joked about the latter having only 90 days of service left and planning outlandish goals for his time back home. In another reference to the Pearsons' beloved local sports teams, Robinson even told Jack that he'd come to Pittsburgh and hijack the career of Pirates baseball player Roberto Clemente, who coincidentally was just honored in a Google Doodle to celebrate Hispanic Heritage Month.
Their lighthearted conversation was nowhere in sight later that night, when enemy forces ambushed Jack's troop. Several seconds into the gunfire attack, Robinson and another soldier moved forward to investigate, but a bomb then blew up, causing Robinson to lose his foot. Jack handed him his unattached limb and let his friend sob in his arms. The next day, while waiting for a medical team to airlift Robinson to an official discharge, the injured solider noted that Jack always pretended not to be scared.
Fitting in with the more guarded, pre-Rebecca character that we've seen glimpses of this season, Jack responded, "I've been pretending my whole life. I don't know any other way."
Although the two clearly formed a deep friendship that viewers only saw a snippet of, Robinson's influence on Jack was evident when he cupped his hands on both sides of Jack's face and delivered final words of advice. The episode then flashed to footage of an older Jack making the same move with a teenage Randall, suggesting that Robinson helped Jack learn how to control his anxieties. Throughout Randall's life, Jack would cup his face and advise him to breathe, and Randall did the same with William when his biological father was on his deathbed in the first season of This Is Us.
Jack isn't exactly who comes to mind when thinking of anxious characters, but after seeing the extent of his difficult childhood in "Vietnam," him suppressing any nerves about situations to protect Nicky would make total sense. Because of the affectionate way Jack treated his brother, Robinson's soft gesture also likely reminded him of his goal to track down Nicky in Vietnam. In contrast to Stanley Pearson's abuse of his family, Jack was tender and loving toward both Nicky and Robinson, paralleling how he would treat his own sons. As Kevin is the one seeking the truth about Jack, it was a little odd that the episode included a tie to Randall instead of him. However, as Kevin's research deepens and he potentially talks to Robinson, perhaps a strong connection between Jack's war experience and Kevin will emerge.
His treatment of both Robinson and Nicky makes it clear that Jack's time in Vietnam helped him shape his protective dad qualities years before the Big Three arrived. Season 3 of This Is Us continues on Tuesday, Oct. 23, at 9 p.m. ET on NBC.