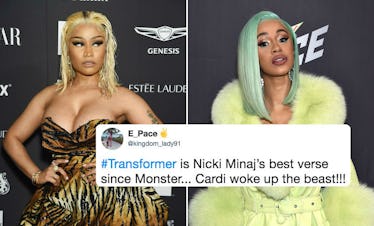 Nicki Minaj May Have Shaded Cardi B In A Major Way In Her New Song
Dimitrios Kambouris/Theo Wargo/Getty Images
Will the feud between Nicki Minaj and Cardi B ever end? Um, apparently not anytime soon. In case you weren't aware, these two have had some major beef with each other and have not been afraid to let it be known to the public, either. Whether they're calling each other out on social media or having in-person altercations with one another, it's pretty clear that the two rappers are on less than pleasant terms with one another. And now that Future just released a new track called "Transformer," featuring Nicki Minaj, it seems like fans are convinced she's back at it again with the drama. And honestly, it seems like Nicki Minaj's "Transformer" lyrics throw shade at Cardi B, at least if Twitter's analysis of the lyrics is anything to go by.
On Friday, Oct. 19, Future's "Transformer" came out, and, while the song itself is pretty great, it's Nicki Minaj's rap that's really catching people's attention. Some of her "Transformation" lyrics seem to be subtly dissing Cardi B, like this one:
Four-four four albums in, pull a milli' for a show / While these b*tches is servin' Milli Vanilli on the low
Now, if you're a little too young to understand the reference, Milli Vanilli was notoriously known for having their Grammy award rescinded after it was realized that they didn't actually sing on a record they claimed to have, well, sung. They were famously exposed during a live MTV performance when their track started skipping on stage. So, put that information into context with the current Nicki and Cardi feud, and fans are being led to believe that Nicki might be calling Cardi out for lip syncing:
Yiiiiiikes.
But things get even dicier from here, you guys. Later on, Minaj raps,
Some call me Nicki but some call me Megatron / I'm stopping bags and I don't need a red octagon
Now, you may remember that, on Thursday, Oct. 4, Minaj took to Instagram and announced a new line of merchandise that's available through her online store, with products that say, "Nicki stopped my bag" after Cardi B's claim that Minaj "stopped her bag" (a phrase used to call out someone or something that's trying to prevent your success):
The shade runneth over, you guys.
And, in case you forgot that ordeal, Cardi B took to Instagram to address her beef with Nicki after the two rappers had an altercation at the Harper's Bazaar Icon party at The Plaza Hotel. On Sept. 8, she wrote in part,
I've let a lot of sh*t slide! I let you sneak diss me, I let you lie on me, I let you attempt to stop my bags, f*ck up the way I eat! You've threatened other artists in the industry, told them if they work with me you'll stop f*ckin with them!! I let you talk big sh*t about me!! I addressed you once in person, I addressed you a second time in person, and every time you copped the plea!! ... I've worked to hard and come too far to let anybody f*ck with my success!!!!
Elite Daily reached out previously to Minaj and Cardi B's teams regarding the altercation and Cardi's claims about Minaj, but did not hear back by the time of publication.
Naturally, fans took to Twitter after hearing the additional "Transformer" lyrics, because how could Nicki not be throwing shade at Cardi at this point?
I don't know, you guys. After all of this feuding, I just want to take a nap. Who's with me?