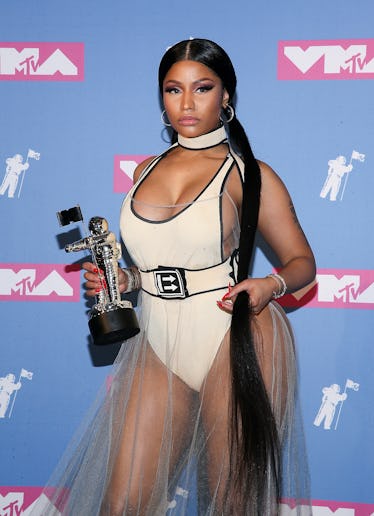 Nicki Minaj's Reaction To Kylie Jenner Avoiding Her At The VMAs Is Actually Pretty Mature
Paul Zimmerman/Getty Images Entertainment/Getty Images
Nicki Minaj seems to have beef with everyone these days. After calling out almost every rapper in the industry on her new track "Barbie Dreams," the famed artist has set her sights on Travis Scott and it caused some behind the scenes drama at the VMAs. Apparently, Minaj believes that Scott and his gal Kylie Jenner used their daughter Stormi to propel Scott's new album ASTROWORLD to the top spot on the charts. The top spot, Minaj believes, should be all hers. Naturally, Jenner and Scott avoided Minaj at the VMAs, but a video of their behavior has since surfaced. And Nicki Minaj's reaction to the video of Kylie Jenner avoiding her was surprisingly mature given all that's gone done the past few days.
In her latest episode of Queen Radio, Minaj explained her stance on the situation.
"She gotta ride with her man, why the f*ck wouldn't she?" Minaj said in response to the video, which was published by TMZ.
In the video, you can see Minaj coming down the pink carpet at the VMAs as a swarm of photographers scramble to take her photo. On the opposite end of the carpet enters Jenner, who swiftly turns around to consult her people as soon as she sees Minaj.
Despite the awkward run-in between the two, Minaj isn't holding any grudges against Jenner.
"We're not gonna make this what it's not," she continued. "She's a dope girl ... This is strictly about music, she has nothing to do with this. My fans are not feeding into this. We love Kylie."
This seems to contradict what Minaj said earlier in the week about Jenner's involvement in Scott's success. After learning her album Queen was second behind Scott's ASTROWORLD, Minaj took to Twitter on Sunday, Aug. 19, to express her frustration.
In her tweet, Minaj alleged that Jenner helped boost Astroworld to the top spot via Instagram. In a recent Instagram post that apparently promoted ticket bundles, Jenner said that she and her daughter Stormi were "ready for tour." Minaj screenshotted the post and posted it on Twitter with the following message:
Travis sold over 50K of these. With no requirement of redeeming the album! With no dates for a tour, etc. I spoke to him. He knows he doesn't have the #1 album this week. I love my fans for the #1 album in AMERICA! I'll explain on #QueenRadio 4 albums in, #1 in 86 countries ♥️
Minutes later, Minaj explained all the hard work she put into her new album Queen and why she doesn't appreciate Jenner stealing her thunder:
I put my blood sweat & tears in writing a dope album only for Travis Scott to have Kylie Jenner post a tour pass telling ppl to come see her & Stormi. lol. Im actually laughing. #Queen broke the record of being number 1 in 86 countries. Thank Jesus & thank you to my fans.
All in all, it seems like Minaj has put this all behind her for now. At least where Jenner is concerned. Something tells me she isn't quite done with Scott just yet. She definitely isn't happy that he took the No. 1 spot from her.