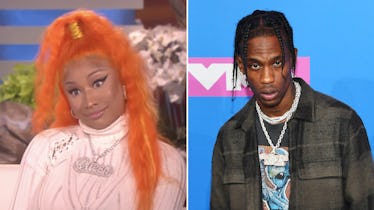 Nicki Minaj Just Opened Up About Her Feud With Travis Scott: "I Wanted To Punch Him"
Ellentube / Nicholas Hunt/Getty Images Entertainment/Getty Images
Honestly, Nicki Minaj isn't really over the whole Travis Scott thing. If you pay even just a little bit of attention to the rap industry, you've likely heard about two of the largest albums out there right now. One is Minaj's album, Queen, and the other is Travis Scott's record, Astroworld. The two have been battling it out on the Billboard charts ever since their releases and it's gotten semi-hostile between the artists. Nicki Minaj's comments about her feud with Travis Scott on The Ellen Show are exactly what you'd expect from her — open, honest, and scathing. Bust out the popcorn, because something tells me this plot is about to thicken.
The entire conflict started over Travis Scott's decision to sell merchandise and tour passes alongside his album. Oh yeah, his girlfriend Kylie Jenner and daughter Stormi got involved, too. Jenner posted she and Stormi would be at Scott's shows, encouraging fans to come out and see them when he goes on tour. According to Minaj, Scott's sales ultimately reflect this strategic PR move and aren't a true snapshot of his audience's response to his music. In other words, it wasn't a fair fight. Minaj says she is selling records based on how much her fans like her tracks and Scott is selling records thanks to pushing merch and his famous girlfriend.
Everyone still with me?
On Aug. 21, Minaj raked Scott on her Apple Music Beat's 1 radio show, Queen Radio. "Travis Scott, on Thursday, when he realized that the Queen was about to have the number one album in America, he and his label decided to have Kylie and baby Stormi put up a tour pass," she explained. "He had her go and post and say, 'Hey, me and Stormi can't wait to see y'all.' How are you selling something that does not have anything to do with your album but it's being counted on Billboard as album sales?" She also called him an "auto-tune man," which is just kinda funny.
You can listen to her rant in the audio clip below.
During her recent appearance on The Ellen Show, host Ellen Degeneres brought up the beef with Scott and Minaj obviously didn't hold back.
Degeneres said, "When you were number two behind Travis Scott, it seemed you got upset about that."
Minaj responded, "But, why do people say things like upset or angry? When someone says how they feel, they're not always upset or angry."
"Well, what were you feeling?" Degeneres asked.
Minaj's response was priceless. She said...
"I felt like I wanted to punch him in his f*cking face."
She continued,
It's not anger. It's just what's right and what's wrong — what's fair. I've had a number two album and I never cared. It's just when you have a number two album to someone who's selling shirts and merch and selling passes for a tour that's not even announced yet... It feels like you're being tricked.
She added, "It feels... like someone is beating you at a game as opposed to just selling music. I want to sell music."
To be honest, I've been rocking Queen since it dropped and haven't pulled up Astroworld once. (Not that I'm, like, the mayor or Rap Town or anything.) However, I do find Minaj's music is best enjoyed while wearing a neon wig and nipple pasties. That's a free tip from me to you.