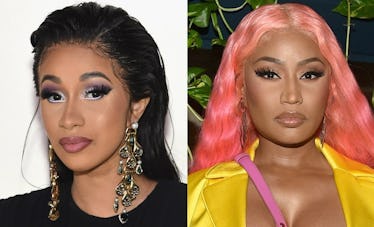 Nicki Minaj Just Offered $100K For The Security Tape Of Her Fight With Cardi B
JAMIE MCCARTHY/BRYAN BEDDER/GETTY IMAGES
And the feud continues! The feud, of course, is the one between Nicki Minaj and Cardi B. The two rappers have been at each other's throats for over a year now, but no amount of back and forth can seem to ease the tension between them. While the two have had a lot of disparaging things to say about one another, there's much more to it than meets the eye. Now, Nicki Minaj claims her friend beat up Cardi B, so this feud has definitely gotten a lot more complicated than it appeared to be just days ago. Elite Daily reached out to Minaj and Cardi's teams for comment on Minaj's claims, but did not hear back by the time of publication.
In the latest episode of her Beats 1 show Queen Radio, Minaj revealed some juicy tidbits about her ongoing feud with Cardi. Before I get to those details, though, I have to back up a little. On Sunday, Oct. 28, Cardi B's sister Hennessy Carolina alleged that Minaj leaked Cardi's phone number to fans. That, according to Carolina, prompted Minaj's fans to make threats to Cardi.
In an Instagram post, Carolina explained the situation:
Ya asking why I'm beefing with a fan base but ya not asking why someone with so much influence would use their influence to manipulate their fans to spread so much negativity and hate! She leaked my sister's number to her fan pages the same sh*t she did to Mariah Lynn. It's easy for y'all to ask me why I'm bothered, why I care so much. But not one of you is waking up to death threats every day, made up stories that can effect my real life and real relationships. Imagine if this was your infant child, imagine if this was your sister or ya mother.
And it was this allegation that seemingly forced Minaj to address her beef with Cardi on the latest episode of Queen Radio. In the episode, Minaj claims she never had Cardi's phone number in the first place, so she couldn't have leaked it to her fans.
She then went on to clarify what really happened during her physical altercation with Cardi at the Harper's Bazaar New York Fashion Week party by saying:
Rah [Ali, Nicki Minaj's friend] really really beat Cardi's ass bad, like really bad. And I'm not trying to be messy. You went home and told people that security hit you and we let that lie continue because of legal reasons. I told Rah, "Don't tell anyone you hit her because I don't want nobody trying to sue me 'cause they gonna come to the person with money." Instead, you went home — I guess you had to look like a gangster in front of your friends and family, I get it. Rah beat you so bad that I was mad at Rah. I'm talking about the punches were so hard in your head that I was mad at Rah. I was like, 'Yo, why?' You know what I'm saying? But Rah didn't like her attitude … You got your family saying that I need to control my fans, but you're not controlling your family when they're calling me, saying I'm on stage looking like a crackhead. So, what's good girl? Are we going to be, you know, civilized and mature and tell everyone around us to relax or not?
Cardi's response? Well, you can watch it down below:
And there's plenty more where that came from right on her Instagram page. So, with all that said, I guess it's safe to say this feud is going to be a long-running one. Something tells me people will be talking about the infamous Cardi B/Nicki Minaj feud for years to come.