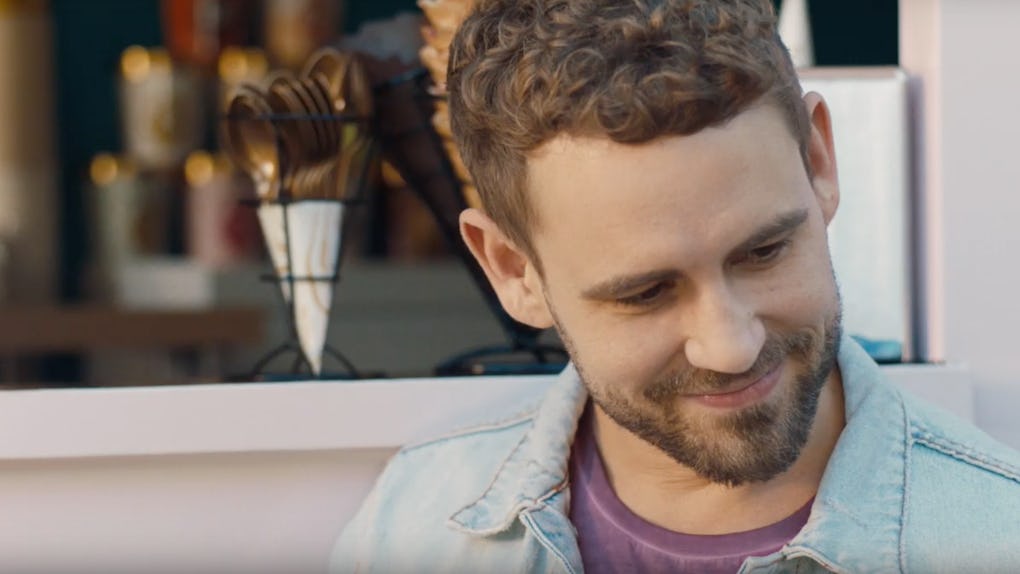 Halo Top Creamery on YouTube
Nick Viall's Halo Top Commercial Will Make Bachelor Nation Scream For Ice Cream
The women of Season 23 of The Bachelor are telling all, but they're not the only Bachelor alums with something to say about love. Nick Viall – who went on the search for love on The Bachelor, Bachelor in Paradise, and two seasons of The Bachelorette — has had so much experience with relationships that he's basically an expert at this point. In fact, he's sharing a bit of his wisdom in a new commercial that's a sweet treat for Bachelor Nation. Nick Viall's Halo Top commercial shows why after all the heartbreak he's been through, he deserves a little ice cream.
Nick's commercial is part of a new series of promos for Halo Top that feature a cynical ice cream man teaching eager children that adults are really the ones who need ice cream more than anyone. The various commercials show adults in a number of stressful scenarios, from paying mortgages to striving for promotions at jobs they don't even like. But, they always get the reward of Halo Top ice cream at the end.
In Nick's commercial, as a grade school romance blossoms, the harsh ice cream man tells them love is an illusion. Then, Nick walks into pick up his Halo Top, and he tells the kids love is always worth it in the end. "Really?" they ask him, and he fires back, "Not even close." The kids ask the ice cream man if Nick is doing OK and, honestly, I'm a little worried about him, too, based on the commercial. But, the ice cream man points out that no adults are ever really OK anyway. Well, at least there's Halo Top to help get Nick and all the adults out there through the pain of love.
Folks on Twitter are already relating to the super-sarcastic and dour look at adulthood. Plus, Nick is catching the eyes of fans in Bachelor Nation who know he's been through the wringer when it comes to love.
Halo Top specifically created this commercial to show adults that they're there for them when they're having a rough time. "We created Halo Top to be able to eat ice cream as much as we wanted and I believe everyone can relate to the need for ice cream after a rough day," said Halo Top founder Justin Woolverton in a press release.
After Colton's rough Fantasy Suite night with Cassie, he might need some advice and comfort from Nick. Just when Colton thought he and Cassie could live happily ever after, Cassie told him she wasn't sure she could match his feelings for her. It all led to Colton's infamous fence-jumping scene, and what will probably be a lot of soul-searching. But Nick can definitely relate to Colton's heartbreak. Nick was the runner-up in Season 10 of The Bachelorette. He returned the next season for a second chance at love, only to have a total repeat of the season before and get rejected again. If Nick can't provide Colton with any words of wisdom, at the very least he can probably point him toward some ice cream to drown his sorrows.
Season 23 of The Bachelor continues on ABC on Monday, March 11, at 8 P.M. ET.