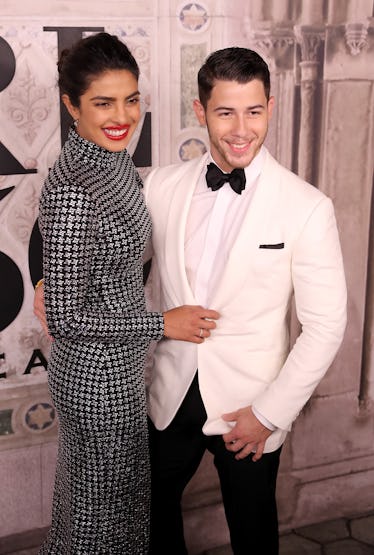 Here's When You Can Reportedly Expect Nick Jonas & Priyanka Chopra To Start Having Kids
Rob Kim/Getty Images Entertainment/Getty Images
By now, everyone knows that Nick Jonas and Priyanka Chopra are getting married in the very near future. The two stars got engaged back in July 2018 after a whirlwind romance, and now they're already making serious plans for the future. According to a new report from Us Weekly, Nick Jonas and Priyanka Chopra will have kids at some point. And they'll be starting a family much sooner than you probably expected.
In Us Weekly's report, which was published on Oct. 1, a source close to Jonas and Chopra revealed that the couple reportedly wants to get started on a family right away. Elite Daily reached out to Jonas and Chopra's teams for comment on the report but did not hear back by the time of publication.
"Nick and Priyanka can't wait to get married," the source told Us Weekly. "They have amazing chemistry and can't wait to have kids."
Oh my goodness! Can you imagine mini Nicks and Priyankas running around and taking over Hollywood? They'd be adorable!
As eager as Jonas and Chopra reportedly are to start a family as soon as possible, Us Weekly's insider source revealed that they're waiting until after they get married to have kids.
"They are going to wait till after the wedding to start trying," the source said. "But it's definitely on the agenda."
So exciting! Since Jonas and Chopra will be walking down the aisle first, fans are waiting with bated breath for any details about the ceremony. Luckily for them, another source gave Us Weekly just a few tidbits of information.
In a Sept. 30 report from Us Weekly, a source close to the couple shared that Jonas and Chopra will be exchanging vows really soon.
"The wedding is coming soon and they really want to blend wedding traditions from both of their cultures that are important to them," the source said. "Priyanka is having a really good time planning the wedding because it's a mix of Indian and American styles and customs, which she knows so much about."
It really sounds like Jonas and Chopra love and respect each other's cultures, which is amazing. I'm sure the wedding is going to be a fantastic celebration of both sides.
The source also dished about how much Chopra loves Jonas. "When Priyanka met Nick, she was so taken by him. She says she loves the way he looks at her, the way he smiles and that he listens so well. They really are a great match," the source said.
All in all, they seem like a match made in Hollywood heaven. They're beautiful, talented, and they seem so in tune with each other. Love it!
Jonas and Chopra officially announced their engagement on Aug. 18 via Instagram with a sweet photo that shows them gazing at each other in total adoration.
"Future Mrs. Jonas. My heart. My love," Jonas captioned the photo. Clearly, he's as head over heels for her as she is for him and that's always a wonderful thing to see. I can't wait to see what the wedding will bring. I'm sure the photos are going to be beautiful!