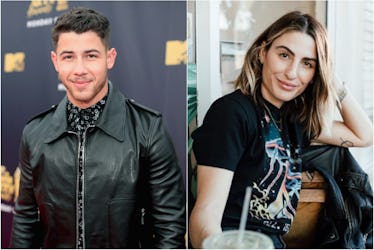 Nick Jonas' Groomer Reveals What It's Really Like Working With Him
Christopher Polk/Getty Images Entertainment/Getty Images & Marissa Machado Instagram
Do your friends tell you you're "celeb obsessed"? Do you follow your favorite celebs' every move? Know their Instagram histories so well that you can rattle off their inner circle by name and IG handle? If yes, Elite Daily's new series, SideClique, is just for you. We're bringing you everything you've ever wanted to know about the people living their lives right alongside our favorite celebs.
If you've ripped out pics from a magazine shoot of Nick Jonas in the last decade, chances are that you're already familiar with the grooming work of Marissa Machado. After first assisting another men's groomer working with a then-growing sensation called the Jonas Brothers, she has been behind youngest brother Nick's camera-ready looks since he was 15.
Consistently working with both Nick and Joe Jonas, celebrity men's groomer Machado also counts Bohemian Rhapsody star Rami Malek and Dirty John headliner Eric Bana as some of her clients. Her responsibilities focus on preparing male celebrities' hair and skin for public events, junkets, and photo shoots. But as with anyone aspiring toward big Hollywood dreams, Machado paid her dues before becoming a top groomer. While hustling for industry connections, she attended cosmetology school and worked at a Nordstrom makeup counter, jumping at any special opportunity that arose.
"One day I got in at an agency on an assisting job and then I was just doing different gigs here and there," Machado says. "I was asked if I wanted to assist another men's groomer called Catherine Furniss. My agent said at the time [that the client] was this boy band that he's kind of heard of [and] they're called the Jonas Brothers."
Up to date with her celebrity news, Machado had an inkling that the band would climb toward success, and her career clicked into place after she began to work with the brothers. While taking care of their touring looks and grooming them for talk show and magazine appearances, her name began to stand out within the film and TV industry. "From then on out, I just started working with men and that's how people sort of knew me in the business, so I just went with it," she says. "And I'm so happy that I did."
After following the Jonas Brothers through their Disney heyday, Machado grew particularly close to Nick after the trio split in 2013. As his groomer, she frequently traveled with him, and Jonas became a source of comfort when Machado was experiencing difficult times. "He's just very much about, 'Stay true to who you are, don't worry, don't let anyone else sort of bring you down," she shares. "The people you're around are the people you become closest to, and I really just consider him one of my best friends."
Of course, all friendships have their rocky patches, and Machado's time with the "Close" singer is no exception. Machado tells me of one time in particular. When planning to receive a spray tan for a TV role, Jonas asked Machado to also give his girlfriend a tan as well. But when Machado arrived at his home for the appointment, Jonas said he no longer needed a tan, but asked Machado to wait for his girlfriend and still spray on her tan.
"I went to text my boyfriend at the time and said, 'Ugh, she's still not here, still waiting, I'm so annoyed, and Nick isn't even getting a tan,'" Machado says. "And as I hit send, I hear it ding on [Nick's] phone ... on the other side of the wall."
We've all been in her shoes before, but Machado's text snafu had a happier ending than most of our mistakes probably have. "He said, 'You know what, Marissa, don't worry about it, it's rude, I feel bad.'"
The internet is still reeling from Jonas' double dose of wedding ceremonies with new wife Priyanka Chopra, but before the couple's big day(s), Machado always knew that fans could expect to see the groom rock a classic Jonas look. As seen in photos from the wedding festivities, Jonas sported a beard and the short, voluminous hair that still hints at his waves of yesteryear. Ahead of the wedding weekend, Machado also groomed her friend for his appearance alongside Chopra on the first digital cover of Vogue.
"He knows what he wants, he always has a clear vision, and it's really nice because sometimes we collab, sometimes he leans on me, but sometimes it's just, 'Hey, this is what I want,'" the groomer shares. Speaking to Elite Daily about two weeks before the wedding, she was confident that Jonas' look on his big day wouldn't be too surprising to longtime fans. "I have a feeling that that day we're just gonna stick to what we know, just to keep it classic, because I feel like those photos are forever and you always want to look like yourself."
Now with Jonas off the market, Machado has advice for anyone wanting to emulate his style with their boyfriends or themselves. "As far as hair products go, what's nice these days is that places like CVS and Target have great hair lines that they're carrying there that I think are really affordable. You don't need to spend $30 on a paste, you can spend $13 and have it last a long time."
At the end of the day, Machado thrives from her job's unique qualities. "I know it's so cliché, but I do feel so lucky to wake up every day and be excited about my job," she says. "It's fun, it's different, I get to meet people, I never get bored. I know it's not luck because I did have to work really hard to get here, but my dad always said, 'Luck is the definition when opportunity meets perseverance.' I think that's definitely true here."