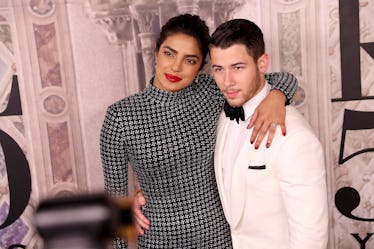 Priyanka Chopra Just Revealed What Nick Jonas' First Text Message To Her Was
Rob Kim/Getty Images Entertainment/Getty Images
Priyanka Chopra has finally opened up about the beginning stages of her relationship with Nick Jonas and it looks like he was the one who made the first move! In an interview with Entertainment Tonight, Chopra revealed that Jonas was the one who set all the romantic wheels in motion. Oh, and he did it via text message! Actually, Nick Jonas' first text message to Priyanka Chopra was surprisingly professional considering the whirlwind romance they've had over the last few months.
In what almost seems like a Linkedin request, Jonas' first text message to Chopra was all business and no pleasure. Or so it seems. Chopra explained how they connected to ET at a dinner event for Bumble on Monday, Oct. 29.
"I actually didn't make the first move — he did," Chopra said. "He texted me. The first time was a text and just saying, 'I think we should connect,' and whatever and that's how we started talking."
Obviously, a connection formed pretty fast even if it was professional at first. The two started dating (publicly, at least) in May 2018. Not even two months later, in July 2018, Jonas and Chopra were engaged. And now, the two are reportedly all set to be married in December.
While all the wedding plans are underway, Chopra enjoyed a bridal shower in New York City that she also told ET about.
"I'm in New York right now and I'm always traveling so [last night] my friends got together and did this for me and it was so special," the 36-year-old actress said. "Like I wouldn't have been able to do it any other way."
The bridal shower took place at one of Chopra's favorite places: Tiffany's Blue Box Café. And it was such a fitting venue for the occasion because Jonas gifted Chopra with a diamond ring from Tiffany & Co. for their engagement.
Chopra even referenced her gigantic engagement ring while talking about her bridal shower. It turns out that she, too, felt Tiffany's Blue Box Café was the perfect place for a bridal shower.
"It was at Tiffany's," Chopra said of her bridal shower. "I love Tiffany's and it's one of my favorite brands and I just feel like that's why it was so appropriate to do it over there because of the ring and everything, it was lovely."
Well, it certainly sounds like Chopra had an incredible time during her shower which is all anyone can ask for. Right?
As for all the wedding details, an Oct. 24 report from Us Weekly revealed that the couple is currently planning for their big day. A source close to Jonas and Chopra revealed that the "wedding is happening in India in December."
Back in September 2018, a source revealed to Us Weekly that the wedding would blend both Indian and American traditions.
"They really want to blend wedding traditions from both of their cultures that are important to them," the source explained. "Priyanka is having a really good time planning the wedding because it's a mix of Indian and American styles and customs, which she knows so much about."
So, it's all really happening! I'm sure it's going to be a beautiful wedding and so meaningful for both Chopra and Jonas. I guess that very first text message really paid off!