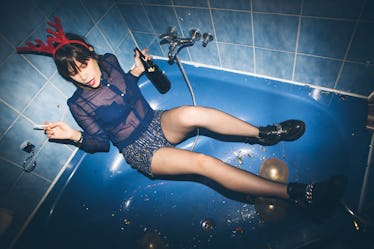 7 Ways Celebrating New Year's Eve Is Really Different In Your 20s & 30s
New Year's Eve has a way of promoting self-growth and making us feeling enlightened and ready to face a new year. Simultaneously, age has a way of altering our perspectives on life. That's why New Year's Eve in your 20s vs 30s is so different, because you're literally welcoming a clean start with new perceptions that just come with the territory of what age bracket you fall in.
Don't get me wrong, there isn't some magical makeover you sign up for once you're exiting your 20s. The changes you undergo happen over time, and almost without you even noticing them. Call it maturity or a humbling understanding of the way you want to perceive yourself and life, but it's coming with or without your consent.
I mean, you don't want every new year to be the same, do you? There's nothing exciting about that. Think about it like this — you're allowing time and age to do what it's supposed to do. And in the process, you're letting yourself grow in ways you never even thought that you could. It may not be super apparent at first, but your New Year's Eve is bound to differ in a few ways depending on whether you're in your 20s or your 30s.