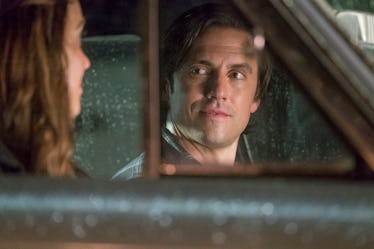 New Photos From 'This Is Us' Season 3 Show Young Jack & Rebecca In All Their Glory
Ron Batzdorff/NBC
This Is Us' third season is so close to premiering that I can practically taste the salt from my tears. The family drama is set to return on Tuesday, Sept. 25 after a summer hiatus, and every hint, pic, and sneak peek offered up so far seems to back up Mandy Moore's thought that this just might the series' "best season yet." Fans of the show have been missing the Pearsons for months, but these new photos from This Is Us Season 3 are the picture of equivalent of a much-needed hug. Prepare to go back in time to the early days of Jack and Rebecca's young love.
NBC's just released a fresh assortment of photos from the first episode of Season 3, which is titled "Ave Maria." It's been widley teased that the upcoming episodes will put a spotlight on Jack and Rebecca's courtship, picking up right after they first met. A glimpse at their budding romance might be a lighter departure from the heartwrenching final days of Jack's life that unfolded in the show's second season. While showrunner Dan Fogelman's revealed there will continue to be a focus on a time period that involves Rebecca dealing with the aftermath of her husband's death, viewers will also get a chance to see how they fell in love in the first place. She has "her whole life ahead of her with the guy of her dreams," Fogelman told Variety.
Look how cute they are. I'm getting Jess Gilmore Girls flashback vibes. Do either of these actors age?
Who doesn't love a good candy apple turleneck and beret moment? It appears twenty-somethings Jack and Rebecca are enjoying a sweet carnival date pre-Big Three.
"Young love is so much more fun to portray than the sort of heaviness and the dark cloud that sort of hung over season two," Mandy Moore explained to ET.
Jack and Rebecca aren't the only This Is Us couple getting some lovey-dovey screen time when This Is Us comes back. Flash-forward to the present day, where Randall and Beth are cozying up in the kitchen while cutting strawberries. Be careful, you two!
But maybe this picture isn't telling their entire story. According to Sterling K. Brown, Beth and Randall have a rocky road ahead of them.
"You can see a relationship going through a rough time. They have different needs and different desires at this point in time in their marriage," the actor revealed to E! News.
Newlyweds Toby and Kate are set to deal with their own struggles as Toby falls deeper into a crippling depression. They'll also continue to try and start a family which "is not going to be as easy as they thought," according to Chrissy Metz.
Viewers will likely be seeing more of Deja's story open up. Actress Lyric Ross was promoted to series regular.
And apparently Kevin will be promoting his movie, unless I'm completely misreading this photograph of him chatting it up with NBC anchor Natalie Morales.
Ah, so much to look forward to. This Is Us Season 3 premieres Tuesday, Sept. 25 on NBC.