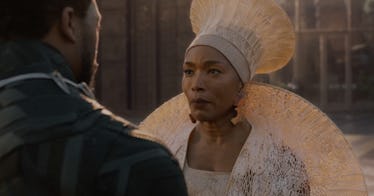 New 'Black Panther' Sequel Details From Angela Basset Will Give You All The Girl Power Feels
Marvel
Angela Basset has a 30-year career and counting, starring in everything from 1993's What's Love Got To Do With It to the current Mission: Impossible series. She's currently out on the Mission: Impossible - Fallout promotional tour, but most people want to talk to her about the other hit movie she starred in this year, Black Panther. From the sounds of it, she's perfectly happy to talk about it too. The new Black Panther sequel details she's spilled so far are giving hope to those who a hoping for a sequel come Marvel's Phase IV.
But first, there's the little matter of her son, T'Challa, dissipating into dust at the end of Avengers: Infinity War. Appearing on Good Morning America earlier this week, Bassett says she's not OK with what happened. "They took my son!"
Her character, as far as she's concerned, Queen Mother Ramonda, is perfectly fine.
I think she's still there in the throne room. Or she's safely ensconced in the Wakandan Palace, because we didn't see her 'poof' into ashes -- her or Shuri. So mama and baby girl are going to have to right this world back together, because it was pretty much decimated...in the last 'Avengers.'
Personally, that sounds like a movie I'd buy tickets to see.
But that's not the only Black Panther opinions Bassett wanted to lay down. She's functioning on the assumption there will be a sequel. As far as she's concerned, she and the other women of Wakanda are going to need to take a more active role in it.
I would kid when we were working, saying, 'When we come back for [Black Panther 2], she's going to really get into the game. You're gonna see some of her skills and [Black Panther will] say, 'That's my mama.' She's going to throw down.
Bassett is convinced the Queen Mother has fantastic fighting skills, by the way. She's hoping the writers will include not only them, but also a backstory to how the Queen of Wakanda became such a badass.
I'm going to say, 'I used to be a Dora [Milaje].' And I still have some of those moves. Don't underestimate mom!
As for now, she knows for the time being T'Challa is gone from the story, but she doesn't believe this means Wakanda will suddenly need saving.
My son is gone. But you know, [Wakanda] is 100 years beyond whatever the rest of the world is doing technologically. So, I think we have the means...the technology, the strength [to rebuild].
Fans hope the still-to-come Avengers 4 will feature Queen Ramonda as well as her daughter Shuri in the fight to bring back the characters lost in Infinity War. As for Phase IV, it begins in the summer of 2019, so hopefully, the MCU will release the preliminary schedule of films, including Black Panther 2, soon.
Until there's more word on Phase IV fans will have to keep hoping. Meanwhile, Avengers 4: It Could Be Called End Game But No One Really Knows arrives in theaters on May 3, 2019.