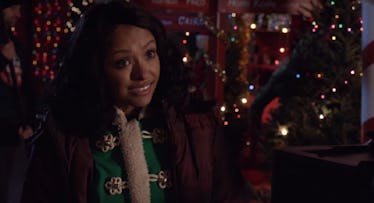 Netflix's 'The Holiday Calendar' Trailer Will Give You All The Christmas Feels
Netflix
Netflix has seen your Christmas Prince and raises it to another new and fluffy Christmas movie just in time for your holiday hibernation period. Releasing several other Christmas movies this year, Netflix just debuted the trailer for one of its feel-good seasonal flicks, and it includes plenty of tinsel, fairy lights, and familiar faces. Christmas may be months away, but Netflix's The Holiday Calendar trailer will bring you festive cheer a little early this year.
Introducing The Vampire Diaries' Kat Graham as heroine Abby, the Holiday Calendar trailer shows her grandfather (This Is Us's Ron Cephas Jones) giving her an antique Advent calendar that belonged to her grandmother. The sweet gift exchange is interrupted by the surprise homecoming of Abby's globetrotting friend (Quincy Brown). The longtime best friend can't possibly be a romantic prospect, right?
As Abby struggles through her mediocre job of photographing kids' visits with Santa Claus, she realizes that the holiday calendar contains far more than just daily pieces of chocolate. The tokens revealed on each day of the calendar turn out to have predictive powers, foreshadowing the real-life arrival of what the toy symbolizes. When Abby finds a miniature pair of boots in the calendar, Quincy presents her with a similar pair. After finding a Christmas tree toy, she nearly gets into a car accident when the tree on top of a hot guy's car slides off into the street. As Abby's life seemingly falls into place just in time for Christmas, William — I mean, Abby's grandpa —sends her knowing looks and dances around whether or not the calendar is actually magical.
OK, Gramps, you do you. Seeing as the calendar conjures up Ethan Peck as Abby's supposed dream guy, I don't think we need to question the validity of its powers.
The film is the earliest arrival in Netflix's original Christmas movie lineup this year. Following The Holiday Calendar's early November release, The Princess Switch debuts Nov. 16, starring Vanessa Hudgens in dual roles as a duchess and a Chicago commoner who switch places right before the holidays. Kurt Russell stars as Santa Claus in Nov. 22's The Christmas Chronicles, following a brother and sister who attempt to catch Santa on camera on Christmas Eve (does the Polar Express stop by while they're on watch?). Before we even bring out our own Advent calendars on the first of December, the anticipated Christmas Prince sequel A Christmas Prince: The Royal Wedding will launch on Nov. 30.
Following the trailer's debut, people took to Twitter to share their excitement about the movie. Clearly, the fact that it isn't even Halloween yet hasn't put a damper on Christmas movie buzz.
Graham, who played Elena's best friend Bonnie on all eight seasons of The Vampire Diaries, seems just as thrilled for this sweet holiday tale as some fans are. She posted the trailer on Instagram, writing, "Me and [Quincy] made the cutest Christmas film EVERRRR!!"
If celebrating Christmas this year means diving into this movie while Halloween candy is still on sale, count me in. The Holiday Calendar premieres on Netflix on Friday, Nov. 2.