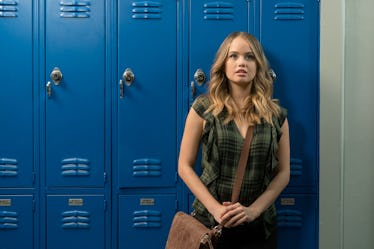 Netflix's 'Insatiable' Trailer Proves Debby Ryan Has Moved On From Her Disney Channel Days
Netflix
Watching former Disney Channel stars take on more mature projects is like watching kids you grew up with in uncomfortably intimate adult situations. Suite Life on Deck and Jessie star Debby Ryan is no exception, and her latest project couldn't be further from being a sunny Disney story. In Netflix's Insatiable trailer, Ryan has definitely moved on from her Disney Channel days, but by playing a formerly overweight high schooler seeking revenge against her peers, she may win over her old fans in no time.
Described by TV Guide as a "young adult dark comedy," Insatiable introduces Ryan's Patty as a fat teen who is teased about her weight. Her classmates call her Fatty Patty, and she spends her free time hiding at home with her best friend. When her jaw is wired shut for the summer, she sheds so many pounds that she's considered "hot" when school starts again, but Patty isn't willing to accept her classmates' sudden friendliness now that she's skinny. She embarks on a mission to avenge for the way she was treated, and the result is violent yet sexy chaos.
Originally meant to air on The CW, Insatiable is created and executive-produced by Dexter's Lauren Gussis, which essentially confirms how bloodily extreme this show could become. But for now, the plot sounds like "beauty queens meet Carrie," and seeing as Riverdale isn't back for another few months, we need another twisted teen show ASAP.
As Deadline reports, when Patty debuts her new look, only lawyer-turned-beauty pageant coach Bob Armstrong recognizes her potential to rock the pageant world, and he takes her under his wing as a new charge. But Bob and his wife Coralee, played by Alyssa Milano, aren't aware of just how angry Patty is about her past, and they may end up becoming her next targets.
Anyone hoping for an optimistic, Princess Diaries-esque makeover story from Insatiable will have to look for something else to provide those warm and fuzzy feels. Just a single watch of Insatiable's trailer proves that viewers are in for pure insanity with this show. The teaser promises fistfights, choreographed pageant routines, and possibly life-threatening pranks. Meanwhile, I'm over here wondering where sweet little Bailey Pickett is nowadays.
Launching a 12-episode first season later this summer, Insatiable also counts Ryan Seacrest among its producers, and as we all know, anything that Seacrest is linked to usually turns to gold. It may not reach a Kardashian level of fame, but Insatiable certainly has a recipe that smells of success. We'll have to tune in to see if that recipe includes an intense dose of gore that sets the show apart from most of its competitors.
According to Cosmopolitan, the show also covers eating disorders, various insecurities, and even a murder plot. Speaking to Cosmo recently, Ryan said about the series:
We all wait for our lives to begin until we are a little bit more like this or a little bit less like this. This is a story of a girl who has just achieved what she thought would be the jumpstart of her life, and now realizes that she spent a lot of her identity waiting for this moment and doesn't know who she is. Everything that I've gone through and gotten therapy for and talked with my friends about, every kind of trauma and confusion and illness and strange reckoning in my life and the life of my loved ones, are dealt with on this show.
It sounds like we're in for a zany, unpredictable ride with this show. Season 1 of Insatiable premieres on Friday, Aug. 10, on Netflix.