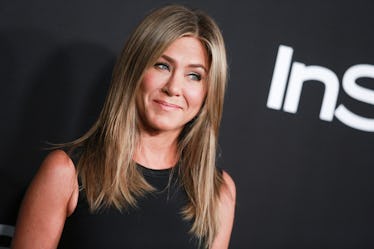 Netflix's 'Dumplin' Movie Trailer Shows Jennifer Aniston In Pure Pageant Mom Glory
Rich Fury/Getty Images Entertainment/Getty Images
Jennifer Aniston's new movie Dumplin' drops on Netflix on Dec. 7, and OMG I can't wait to see my queen back on the screen. The Friends alum stars as an overbearing Texas mom and former beauty queen who now runs the Miss Teen Blue Bonnet pageant, and it's like she was basically born to play this role. I mean, I've now watched Netflix's Dumplin' movie trailer about a bazillion times (or, you know, like 10) and Aniston's character is giving me all the Rachel-Green-before-she-left-Barry-at-the-alter vibes. So if you ever wanted to see what would have happened if the Central Perk waitress with the high hair, fake nails, and sparkly clothes had never traded in her high hair, fake nails, and sparkly clothes to become a chic Ralph Lauren fashion exec, and instead hightailed it to the The Lone Star State to live that pageant life, well, then, this flick is def for you.
Of course, it's also so much deeper than that. Based on Julie Murphy's novel of the same name, Dumplin' follows the journey of Aniston's plus-sized, Dolly Parton-obsessed teenage daughter Willowdean (played to spunky perfection by Danielle "I'm not the Joan of Arc of fat girls" Macdonald) who decides to enter her mother's local pageant as an act of "protest in heels," which in turn inspires other curvy contestants in town to do the same.
Watch:
Something tells me Macdonald is about to blow up big time!
This is not her first big role, of course. The Australian actress starred alongside Diane Lane and Dakota Fanning in 2014's Every Secret Thing, and played an aspiring rapper in the 2017 Netflix film Patti Cake$. But given the changing attitudes around the sexualization of women and the current backlash against the Victoria's Secret Fashion Show, the plot of Dumplin' is super timely, and I feel like the film's young star is gonna get lots of attention for her stellar job representing.
In case you aren't up to speed on all the controversy, here's what you need to know: On Nov. 8, Vogue published an interview with VS chief marketing officer Ed Razek, in which he was asked to explain why the show doesn't include plus-size models.
"We attempted to do a television special for plus-sizes [in 2000]," he responded. "No one had any interest in it, still don't."
And it got worse from there. Because when asked whether he thought the brand should feature transgender models in the fashion show, Razek said this:
No. No, I don't think we should. Well, why not? Because the show is a fantasy. It's a 42-minute entertainment special.
Razek has since apologized for his remarks. And, like, of course he did because the backlash against both him and VS was brutal and swift. Gigi Gorgeous was one of the first trans women to speak out against Razek, encouraging a boycott of all VS products on Instagram.
Tess Holliday also took to Instagram to address the issue. "Who needs VS anyway?!" she wrote. "They never supported plus ladies & now they are trying to dis my trans sisters? Hell nah. Kiss my fat ass."
And then there was blogger Sarah Nicole, who shared a photo of herself with her own drawn-on set of VS's iconic angel wings.
"It's OK VS," she wrote in her caption. "I don't need you or your runway. I need to love my body. I need to remind others to love theirs. Your fantasy isn't my fantasy. And my money isn't going to be your money. All women are angels. We all deserve the wings."
We all deserve the wings.
She may not want to be the Joan of Arc of fat girls, but that definitely sounds like a battle cry Miss Willowdean could get behind.