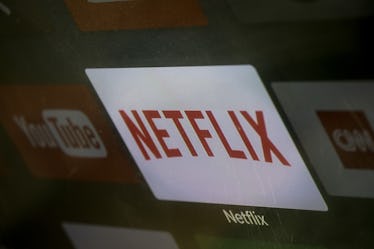 Netflix Is Testing Out Ads, So That's Why Your Binge Might Have Been Interrupted
Chris McGrath/Getty Images News/Getty Images
We've all reached that point of inner shame when we've watched so many consecutive episodes of Queer Eye or Grey's Anatomy on Netflix that the streaming service asks if we're still watching. Now, it sounds like Netflix is employing a system that will definitely keep us vigilant during our 20th rewatches of Friends or Stranger Things. Keep calm, but Netflix ads are in the works, so your future binge watches may not be as seamless as they were before.
Netflix has confirmed that it's testing out video ads that will play at the end of your movie or TV episode of choice and advertise original Netflix content you may want to watch. In other words, the site will force-feed you trailers of the things you see in those "Because you watched..." lists, whether or not you have any interest in them, but their focus will only be on the site's own productions. However, the intention behind the experiment sounds well-meaning, as a Netflix spokesperson told Ars Technica, "We are testing whether surfacing recommendations between episodes helps members discover stories they will enjoy faster."
The company's reasoning definitely makes sense, since there's so much material on Netflix that it's easy to miss something that could become your all-time favorite show. But then again, word of mouth travels fast, and whether you heard about the next best thing from your friend or a stranger on Twitter, you probably spent last weekend crying over new Netflix rom-com To All the Boys I've Loved Before. Do users really need ads to find worthy recommendations of what to watch?
Users' responses to the news online is fairly negative, with many people saying that they pay for a Netflix subscription to avoid ads.
Netflix has made it clear that it's still in the testing stages of this feature, but if anyone is really upset about the idea of ads interrupting their binges, they can opt out of being included in the testing group. By going to this page on the Netflix website, a user can choose not to be involved in any Netflix user experience tests.
For those whose Netflix accounts do end up as test subjects, the site is likely to make a final decision about the ads based on customers' interactions with the trailers. Reports claim that the ads would be skippable, as opening trailers before Amazon Prime streamings always are. Even with this reassurance, even one little roadblock preventing a user from a new episode seems to be a travesty for the majority of Netflix users.
I don't usually mind 30-to-90-second ads while I'm watching Hulu — we could always use a snack break, right? But there is something great about watching Netflix at the end of a long day and knowing that a booming voice advertising who knows what isn't going to give me a heart attack in bed. We'll have to wait and see how this ad test plays out, but if Netflix users have anything to say about it, their binge-watching would remain totally uninterrupted. ICYMI, Netflix, we're always "still watching."