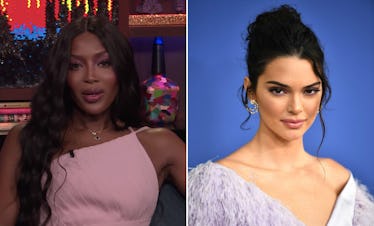 Naomi Campbell Threw Major Shade At Kendall Jenner For Being "Selective" About Modeling Jobs
YouTube / Dimitrios Kambouris/Getty Images Entertainment/Getty Images
It might shock you to hear I don't run in supermodel social circles per se, but I do follow them very closely in the news. At the forefront of the modeling industry these days is Kendall Jenner, aka one member of reality TV's most famous family, the Kardashian-Jenners. When Jenner first started to take modeling seriously, it was a noticeable turn from what the rest of her famous family was doing. Spoiler: It really worked out for her. However, not all models agree with Jenner's career approach. In fact, supermodel veteran Naomi Campbell shaded Kendall Jenner like whoa during a recent appearance on Watch What Happens Live with Andy Cohen, and I'm a little nervous for whoever has to tell Jenner about her ~shade~.
Here's the drive-by: Jenner dove feet first into the modeling business and quickly skyrocketed to one of the most sought-after faces for print and runway fashion. Fans watched as she opened up about her issues with anxiety on Keeping Up With The Kardashians, which was seemingly brought on by her demanding career and schedule. In August 2017, Jenner told LOVE magazine she and her team made the decision to be "selective" about what jobs she takes on to help temper the stressful lifestyle that comes with being a supermodel. LOVE magazine shared the following excerpt from their interview with Jenner on Instagram:
'Since the beginning we've been super selective about what shows I would do. I was never one of those girls who would do like 30 shows a season or whatever the fuck those girls do. More power to 'em. But I had a million jobs, not only catwalks but everything else. The whole combination was very overwhelming and I started to freak out a little bit and needed to take a step back,' says the 22-year-old, admitting that she 'was on the verge of a mental breakdown.'
That did not sit right with many of Jenner's colleagues. Historically, the modeling business is extremely dog-eat-dog and many people working in it don't have the luxury to turn down jobs or an über-powerful mom who has the power to make a call and get you a meeting with Wilhelmina Models.
Jenner later issued an apology on Twitter explaining she was "misrepresented" and that her respect for her peers is "immeasurable."
OK... but what does OG model and icon Naomi Campbell have to say?
Campbell stopped by Andy Cohen's WWHL clubhouse on Wednesday, Sept. 26, and was asked for her opinion on Jenner "cherry-picking her jobs." Without missing literally one beat, Campbell stared straight into the camera and purred, "Next question."
Take a look.
It stings, doesn't it? Looks like she's taking the "If you don't have something nice to say, don't say anything at all" approach here.
It seems like part of the rub for Jenner's colleagues is that she can be discerning about what jobs she takes and was still somehow the highest-paid model in 2017 anyway. Jenner eclipsed former queen Gisele Bündchen who held the title since 2002.
To be fair, if I was in Jenner's position and was able to choose what work I wanted to do in order to preserve my mental, emotional, and physical health and still be paid an extraordinary amount of money — hell yes, I'd do it, too. Though, it might be smart not to speak so bluntly about it for the sake of her less fortunate peers in the future.
Still, don't hate the model, hate the game. Or something.