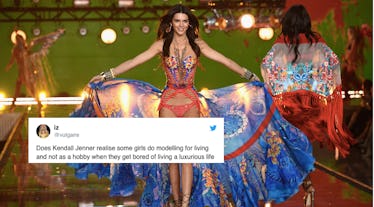 What Kendall Jenner Just Said About Walking Runway Shows Has Her Fellow Models Pissed
Dimitrios Kambouris/Getty Images Entertainment/Getty Images
We all know that Kendall Jenner is a damn good model. Whether she's on the runway or appearing in magazines all over the world, it's obvious that the girl has got some major talent. But in a recent interview, Jenner had a few choice words to say about modeling, and now, the modeling community is giving her some serious backlash. Kendall Jenner's comments about being "selective" about runway shows are facing a ton of scrutiny, but Jenner's reps have come to her defense to try and explain just exactly what she meant.
The quotes were taken from an Instagram post by Love magazine, which interviewed Jenner for the publication and then posted a preview of the session on social media. In her interview, the Keeping Up With The Kardashians star talked about how she is extremely selective when agreeing to particular fashion jobs, and essentially cherry-picked only the ones that she is willing to take on. "Since the beginning we've been super selective about what shows I would do," Jenner told the magazine. "I was never one of those girls who would do like 30 shows a season or whatever the f*ck those girls do. More power to 'em," she said.
She continued, telling the magazine, "But I had a million jobs, not only catwalks but everything else. The whole combination was very overwhelming and I started to freak out a little bit and needed to take a step back," then added that she "was on the verge of a mental breakdown."
While it's truly amazing that Jenner has the convenience of having the ability to turn down work, a lot of women in the modeling industry are firing back, explaining that not everyone has that luxury if they want to succeed.
Models such as Daria Strokous are stepping up to the plate to give their two cents about Jenner's comments, and let me tell you, it is not pretty.
On her Instagram story, Strokous took a screenshot of Kendall Jenner's quote and added her own thoughts, writing, "'whatever the f*ck those girls do' is do their very best to make their way up AND try to make some money so that they can provide for themselves and their families." She continued, writing, "Oh, and it's 70 shows a season by the way and we all are f*cking proud of every single one of the girls that did it."
Other models chose to express their thoughts by commenting on Love magazine's Instagram post.
Victoria's Secret model Jac Jagaciak wrote, "This makes me so angry... so disrespectful to literally 99% of people in the industry — yes, they had to work their way up. Please get in touch with the real world!"
Another model, Sports Illustrated star Vita Sidorkina, took to the comments to add that many models take so many shows on for obvious financial reasons. "Maybe 'those girls' need to pay their bills that's why they are doing 30 shows? No words…," she wrote.
Others took to Twitter to share their outrage:
And one Twitter user even spilled some ~tea~ about reportedly rehearsing with Jenner, claiming that Jenner "refused to walk rehearsals":
A representative for Kendall Jenner told the Daily Mail that her quote was taken out of context:
She realized the number of shows some models walk a season is closer to 80. The point was that it's their path and 'the more power to them.' She admires their hard work and dedication. It's an accomplishment.
While there certainly could be some miscommunication going on, it's clear that Jenner's comments struck a chord with the modeling community — and not in a good way. Best case scenario? Apologize, apologize, apologize, and then hug it out.
It's the right thing to do, in my opinion.