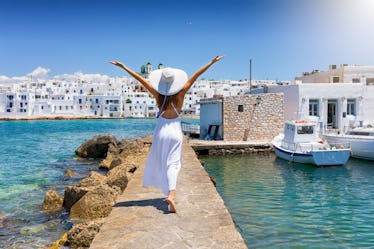 My Greece Packing List Will Make For The Most Stunning IG #Content
Shutterstock
Greece has been on my travel bucket list for as long as I can remember. Next Monday, I finally get to leave for the two-week-long vacation of my dreams through Athens, Mykonos, Santorini, and Milos. I'm so excited to have the opportunity to explore such an incredible country that's filled with so much culture, delicious food, and breathtaking sites. Naturally, my Greece packing list is quite extensive, but I have full confidence I'll be able to stuff everything I need into my carry-on, as always.
I've decided on a neutral color scheme for all my clothes, so I'm really excited to see how my wardrobe comes together. The pictures are bound to be epic, if I have any say in it. Plus, because the weather will still be warm, I can wear all of the sandals and light sweaters my heart could ever possibly desire. I'm also packing lightweight makeup that will glow in all my pics. And of course, I have to bring sunscreen to protect my skin against that Mediterranean sun.
I cannot wait for this trip and truly can't even believe I'm going. Here are just a few of the things I'll be bringing in my carry-on bag.