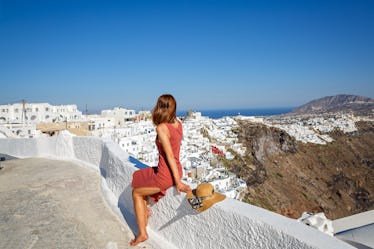 How I Planned An Epic 2-Week Vacay To Greece For Less Than $1,500
Shutterstock
Ever since I watched The Sisterhood of the Traveling Pants 2 when it first came out in 2008, going on an adventure to Greece has been on my bucket list. I've wanted to see the blue domes of Santorini, the towering columns of Acropolis, and the sandy beaches of Mykonos in person. This year, I saved up enough money to get myself there to take an unforgettable vacation. I did my best to make traveling to Greece for less than $1,500 a possibility — and I succeeded.
I'm not going to lie: Planning the trip was not the easiest. I did a lot of research, spent many nights making notes, copying and pasting links into my notes, and crunching numbers to make sure the trip would work out. This is the first time I've planned a trip of this magnitude — two weeks across four cities — so I definitely had a few things to learn along the way. I had to learn how to balance experiences versus my budget, how to weigh the pros and cons of hotels, Airbnbs, flights, and ferries, and much more.
But with just a week until I leave for the vacation of my dreams, all of my planning is done and I'm ready to soak up the sunshine in Greece. If you're planning to visit Greece anytime soon, consider using these tips to help plan your trip.