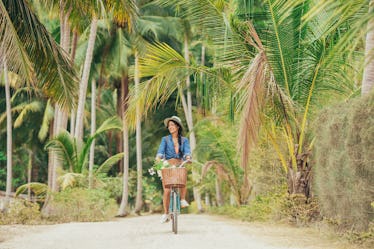 8 Ways To Travel In Luxury On A Tight Budget, Because Everyone Deserves To Vacay In Style
Traveling is something that's probably at the very top of your bucket list. Gorgeous travel photos on Instagram bring on a serious case of wanderlust, and you've probably been adding dream destinations to your list for as long as you can remember. But having the beautiful fantasy vacation of your dreams might seem pretty unattainable, because traveling can be so expensive. And while there are definitely cheap ways to vacation, your aspirations might include some pretty luxe accommodations. I've rounded up a few tips on how to travel in luxury when you're on a budget, because you deserve to do it up in style.
Let's be honest: Every little bit of savings helps. You can turn on Google Flight alerts so you'll be notified when a flight you've been checking out gets a little cheaper, or you can use your favorite travel blogger's referral codes for some savings here and there. Those deals and savings can add up to help make your dream vacation a reality.
So, if you're planning on crossing an incredible destination off your bucket list this year, try out these helpful tips for luxury travel on a budget. It'll be one of the best decisions ever.