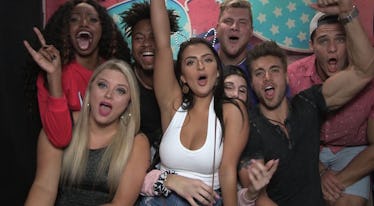 MTV's 'Floribama Shore' Cast Promises Season 2 Is "Way Wilder" Than The First – EXCLUSIVE
MTV
Following in the footsteps of a pop culture juggernaut like Jersey Shore is no easy task, but last winter, the cast of Floribama Shore proved that they were more than worthy of inheriting the vodka-filled Solo cups of their fake-tanned predecessors. The first season of Floribama Shore was packed with as more boozy brawls and drama-stirring hookups as any Jersey Shore fan could hope for, and now they are all back to cause even more chaos in Season 2. Elite Daily caught up with the whole gang, who promised that Floribama Shore Season 2 is way wilder than the first one.
Season 2 brings back cast members Jeremiah Buoni, Codi Butts, Kortni Gilson, Aimee Hall, Kirk Medas, Nilsa Prowant, Candace Rice, and Gus Smyrnios into the Panama City Beach shore house, and Elite Daily sat down to talk to the cast about what's to come. The show's first season saw the turbulent personalities get into multiple bar fights with each other and with strangers, but always come back together at the end of the day. The cast said that their bond is even stronger in the new season, and that is responsible for how different Season 2 feels from Season 1.
By far, the biggest difference between the first season of Floribama Shore and the new one (which just began airing on Monday) is the fact that the eight castmates are no longer strangers. That means that they feel more like a family this time around... including how they fight with one another. As Kortni put it, everyone knows how to push each other's buttons this time around, which brings their blowups to the next level: "We kind of know each other a lot better and we do know what pushes each other's buttons. And there is a lot of button pushing."
Nilsa made things a little more clear. She promised that Season 2 includes more fights, more hookups, and also a lot more opening up among the cast: "I think you can expect Season 2 to be way wilder than the first time, way more hookups, way more fights... And then, also last summer I don't feel like the viewers got to know every single one of the cast members. And this summer I feel like they're gonna get to know every single one of us through and through, which is what we did with each other. Last summer we didn't really know each other and we didn't really wanna open up or let our walls down, because we didn't know each other. And so, this summer there was a lot more opening up."
What really takes the drama up a notch is just the simple fact that the Floribama Shore is basically trapped in a house with one another for three months of filming. Kortni said that they basically have to face up to everything they do, since there's nowhere to hide in that house: "If you fight, it's not like you can just run away or go hide behind something. Like sh—, we don't even have doors."
And the fans are eating every last bit of that drama up. The ratings for Monday night's season premiere came in at a series high, garnering nearly a million viewers, according to Deadline. The new episode's rating topped every the ratings of every episode in Season 1, which is obviously an amazing sign of success for the show. If the trend continues, then fans could reasonably expect Floribama Shore to go the full six seasons that Jersey Shore did — maybe even more!
But for now, the cast is taking things season by season. They say there's no real talk of a Season 3 yet, but everyone in the cast is praying for MTV to pick them up for another summer. You can catch new episodes of Floribama Shore on Mondays at 10 p.m. ET on MTV.