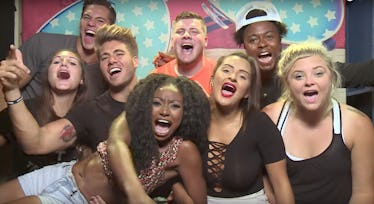 The 'Floribama Shore' Cast Is More Outrageous Than 'Jersey Shore' & You'll Love It
MTV
It's been five years since we last fist pumped our way through Jersey Shore, but now MTV is bringing the craziness back in another wild beachside party town. While Jersey Shore introduced the world to guidos, guidettes, and juiceheads, its spiritual successor Floribama Shore will bring fans into the party culture of the deep south, following a whole lot of new crazy personalities. Get the low-down on the wild new housemates that will be stirring up massive amounts of drama when Floribama Shore premieres on Monday, Nov. 27. Let's go over the Floribama Shore cast right here.
Jeremiah Buoni
Age: 22, From: Amelia Island, Florida
First up is Jeremiah, a musclebound gym-rat from a resort town in Florida. He may even make Ronnie from Jersey Shore look scrawny! Other than his protein shakes and gym schedule, Jeremiah also talks about the fact that he was homeschooled a lot. In his introduction, he asserts that he breaks the usual "shy and awkward" stereotype that falls on homeschooled kids, and goes on to prove it be being one of the most boisterous and outgoing members of the house. It also looks like he's going to be at the center of a lot of drama this season, so watch out for that...
Codi Butts
Age: 25, From: Westminster, South Carolina
One of the oldest of the bunch (I know... 25 is old on this show), Codi seems to take on something of a mentor role in the house early on. In his intro, he says he works at a bar that mostly caters to older customers, but now he's ready to embrace his youth and cut loose in Panama City this summer. Still, you might find him offering some advice or comforting his fellow housemates more than a few times this season.
Kortni Gilson
Age: 21, From: Panama City Beach, Florida
The youngest of the group, and also the one with the craziest moments in the show's premiere episode, Kortni clearly makes partying hard her full-time job. Kortni enters the house with her friend Nilsa Prowant, both of whom are also the only natives to Panama City Beach of the group. It becomes pretty much immediately clear that Kortni is going to be the standout of the new cast, as she gets blindingly drunk right away and causes mouth-dropping antics you will have to see to believe. Snooki may have some competition...
Aimee Hall
Age: 24, From: Perdido, Alabama
Armed with the thickest southern accent of the bunch, Aimee proves herself to be a hilarious machine of one-liners from the get-go — I can already see the GIFs being made. Aimee is another housemate looking to party hard this summer. She reveals that she just got out of a 10-year (!!) relationship, and also that her hometown is one of the smallest towns in America.
Kirk Medas
Age: 25, From: Atlanta, Georgia
The chill dude of the house (at least for now), Kirk flies under the radar during the Floribama Shore premiere, but the preview of the full season to come reveals he's going to be getting into quite a few fights soon enough.
Nilsa Prowant
Age: 23, From: Panama City Beach, Florida
What's a reality show without a good drama queen, am I right? Nilsa will be your source of all the crying, screaming, and fighting you could ever hope for throughout Floribama Shore. She makes a huge splash in the house by setting her sights on not one, but two of her housemates, and is also at the center of the biggest fight of the premiere. But behind all that drama, Nilsa does have a sad backstory, which includes the fact that she is recently divorced.
Candace Rice
Age: 24, From: Memphis, Tennessee
Candace seems to be the most down-to-earth member of the house, mostly just doing her own thing and chilling with everyone in the premiere. You can often catch her by the microwave making pizza rolls, which probably makes her the most relatable person on this show. That said, she also sparks up a bit of a romance, which could make things interesting as the season progresses.
Gus Smyrnios
Age: 22, From: Tallahassee, Florida
And what reality show cast would be complete without the playboy? Like The Situation before him (although his coiffed hair is much more Pauly D), Gus establishes himself as the resident flirt, and at the center of all the romantic drama going on in the house. Although he says he's just looking for a girl to settle down with, I have a feeling we're going to be seeing Gus making the rounds at the clubs quite a bit this season.
Floribama Shore premieres at 10 p.m. ET on Monday, Nov. 27 on MTV.