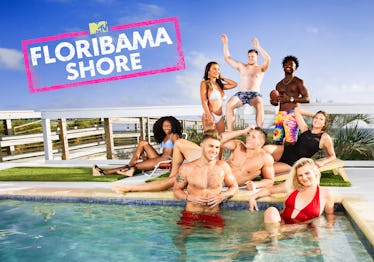 The 'Floribama' Shore Trailer Is Here & There's No "GTL" This Time Around
MTV
Cabs are here! Yup. It's baaaaack. OK, not exactly. But the MTV franchise known as Jersey Shore is soon-to-be returning to your TV screens with a different location and new young cast members ready to have the summer of a lifetime. The Floribama Shore trailer has arrived and it's already proving there will be plenty of drama, hook-ups, and craziness in store. Gym, tan, laundry... TBD.
No, it doesn't take place in Jersey, so don't expect the Seaside Heights boardwalk or Club Karma to make an appearance. And there's no Sammi Sweetheart or Snooki this time. Floribama Shore heads down to the Florida Panhandle to a town on the Gulf Coast — Panama City Beach to be exact. There will be eight newbies in their early 20s to watch in action, as they live, play, and party like there's no tomorrow together. It's been five years since the pop culture reality TV phenomenon Jersey Shore shut off its cameras. Are you ready for a comeback? Has there been a Jersey-shaped hole in your heart? If the trailer for Floribama Shore is any indication, we're in for quite a situation. Get it? A Situation? Come on, it hasn't been that long.
"It's about to go down" is right. So, from what we can tell there will be fighting, making out, and — look! — they go to the gym, too. This new generation might just live up to their OG party animal predecessors, except they have southern accents. "I just wanna have one night stands," says new cast member, Aimee. We'll have to wait to find out if her dreams come true. Also, someone is a Wiccan and someone has a Jesus candle. Good to know. "I'm gonna climb Jeremiah like a tree if I get the chance," reveals Nilsa. Will she get that chance? We. Must. Know.
Let's back up a second. Just who are these people? We don't have former intros to this particular cast — it's not like they are MTV alums of rotating shows like The Challenge, The Real World, or Are You The One? The now-unfamiliar faces are actually fresh meat in the reality TV world. Let's get to know them a bit before the show airs.
Jeremiah Buoni. He's 22, from Amelia Island, FL
Codi Butts. He's 25, from Westminster, SC
Kortni Gilson. She's 21, from Panama City Beach, FL
Aimee Hall. She's 24, from Perdido, AL
Kirk Medas. He's 25, from Atlanta, GA
Nilsa Prowant. She's 23, from Panama City Beach, FL
Candace Rice. She's 24, from Memphis, TN
Gus Smyrnios. He's 22, from Tallahassee, FL
Can we expect a breakthrough star like Snooki? An on-again, off=again love affair a la Sammi and Ronnie? Will there be an Angelina of the group? Oof. So many questions.
It seems like just yesterday we were learning what a "grenade" was. When E! brought together the original cast for Reunion Road Trip in August, fans got a glimmer of hope that they might be down for a reboot. But the Jersey girls and guys we met back in 2009 have surely grown up since then. Nicole "Snooki" Polizzi has two kids, as does Jenni "JWoww" Farley. Pauly D is a father. Mike has battled addiction, and is practicing sobriety. Sammi and Ron are long broken up.
Now it's time to welcome a new crop of Shories into our lives. We'll have to make room in the reality TV section of our brains for these beach-dwelling twenty-somethings, and we're ready for it. Start perfecting your fist pump now, kiddos. Floribama Shore premieres Monday, Nov. 27 at 10/9c on MTV.