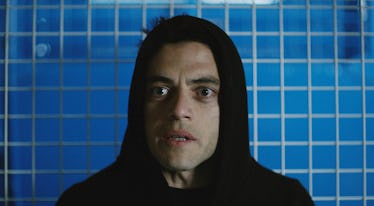 'Mr. Robot' Will End After Season 4, But Rami Malek Fans Have A Lot To Look Forward To
USA
It's time to log off. Mr. Robot is ending after Season 4, The Hollywood Reporter has confirmed, meaning that the upcoming season of the USA cyber-thriller will be its last. But thankfully it's not all bad news — showrunner Sam Esmail is promising that fans are in store for a big finale season.
Although we will have to say goodbye to Mr. Robot after it completes its fourth season next year, Sam Esmail revealed that the finale season will actually be an extra-long one. Mr. Robot Season 4 is getting an expanded 12-episode order, up from the eight-episode order it originally received. Apparently, this is because the writing team was facing a choice between either making shortened Seasons 4 and 5 or just throw them both together into a super-long Season 4 to end the show, and they decided on the latter.
Showrunner Sam Esmail has previously stated that somewhere between four and five seasons has always been the plan for Mr. Robot. He said that the series was always leading to one specific conclusion, and the team has finally reached it. You can read Sam Esmail's full statement on ending Mr. Robot, sent to The Hollywood Reporter, below:
When I first created the world of Mr. Robot, I thought it would be a niche television series with a small, cult following. Over the past three years, it has become so much more, and I am continually humbled by the show's recognition and by the amazing cast and crew that work tirelessly to help bring my vision to life. Since day one, I've been building toward one conclusion — and in breaking the next season of Mr. Robot, I have decided that conclusion is finally here. Everyone on the creative team, including the amazing people at USA and UCP, didn't want to say goodbye, but we ultimately have too much respect for Elliot's journey to extend past its inevitable ending. Therefore, season four will serve as the final chapter of the Mr. Robot story. To fans of the show: thank you for the past three years, and I can't wait to share this exciting final season with you.
Sam Esmail also confirmed that the final season of Mr. Robot will premiere sometime in 2019, meaning the show will have been off the air for over a year since its Season 3 finale at the end of 2017. Hopefully, Season 4 will come closer to the beginning of 2019.
Though this is goodbye for Mr. Robot, the team that made the show so great still have a ton of exciting new projects for fans to look forward to. Sam Esmail is currently adapting the psychological thriller podcast Homecoming into an Amazon series starring Julia Roberts, which is set to premiere on Nov. 2. And Mr. Robot star Rami Malek's next major project is playing Freddie Mercury in the biopic Bohemian Rhapsody, which is also set to be released on Nov. 2.
As for Mr. Robot's final season, expect Season 4 to premiere sometime in early 2019.