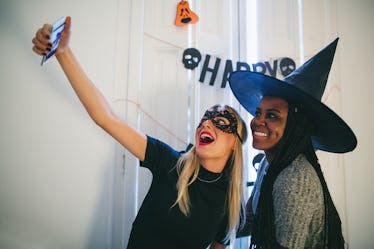 These Are The Halloween Costumes That Are Getting The Most Instagram Likes This Year
If you're really being honest with yourself, one of the main motivations behind figuring out a great Halloween costume is to rake in all the likes on social media. Usually, creativity wins out, but if you want to guarantee that your Oct. 31 getup is trending all night, then just check out this latest cheat sheet. If you take just a quick look at what the most popular 2017 Halloween costumes on Instagram are, then you'll be trending well into November.
According to the Halloween Express website, the company has compiled data for costumes that have gotten the most likes in 2017. When it comes to the results, some of them are not so surprising, considering what's currently trending. There's also quite a few staples on the list that seem to come around every Halloween — because if it works, it works.
So, if you're sick of spending hours browsing Pinterest to ensure that you're coming up with most creative and unique costume possible, then save your time and just check out this chart instead. You'll find that you don't need to whip out the glue gun and sewing machine in order to get the likes. Sometimes keeping it simple is the best way to go.
I'm all at once surprised and not-at-all surprised that a fairy costume is the number one liked Halloween costume in 2017. Also, it received more than 4,000 likes on Instagram, beating out the second place winner by over 2,000 likes; there is no doubt that it takes the top spot. I guess I'm surprised because it seems so simple, but then again, it is a costume that can be personalized and altered in many different ways.
You could go the Tinker Bell route, get super glam and dress up as a Fairy Godmother, or you could use it as an excuse to finally wear that super-sparkly eyeshadow that you've just been dying to try out. When it comes down to it, the fairy costume is really very versatile. Hey, you could even go as couple different versions of fairies and double-up on the likes.
Here's to hoping your Halloween party is in the daylight so you can sparkle in the sun.
The second place winner is very of-the-moment right now. Yep, Pennywise, the clown from It, is the second place winner by getting 1,848 likes. This costume is perfect for scary movie enthusiasts. If gutters and red balloons terrify you more now than you ever thought was possible, you might want to stay away from this one. But remember, if you're in it for the likes on Instagram, this one is definitely a winner.
Mask on for all the likes.
The third and fourth place winners are Freddy Krueger and Zombie, respectively. Now, both of those will require quite a bit of dressing up, but again, your effort will be rewarded with Instagram likes. Since I already posted a picture of Pennywise, I'll leave the rest nightmare-inducing material to your discretion.
The fifth place costume is back to reality — in so much as an adult wearing whiskers is "reality." Nevertheless, a cat costume rounds out the top five most-liked Halloween costumes on Instagram in 2017. Once again, the cat costume can be interpreted so many ways, you could just throw on some ears and a tail —or you can go full Gretchen Wieners from Mean Girls.
Whichever route you'll go, you'll be sure to rake in likes well in to the 700 count.
If you're more of a dog person, you won't be getting as many double-taps on your costume photos since, according to the website, dog costumes only got 213 likes on Instagram. Even if you go as an adorable puppy, you'll still only get 233 likes.
So, now that you know what you need, you can choose which costume you think will get you trending this holiday. But don't let the numbers discourage you if you like one of the lower-liked costumes. Maybe your take on a puppy costume will finally make its way to the top spot.
Check out the entire Gen Why series and other videos on Facebook and the Bustle app across Apple TV, Roku, and Amazon Fire TV.