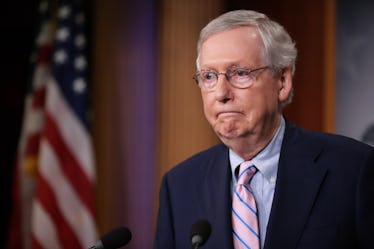 Obamacare Might Be On The Chopping Block Again After The 2018 Midterms
Chip Somodevilla/Getty Images News/Getty Images
The November midterm elections will be here before anyone knows it, and there could be serious changes depending on who wins the majority in the House and Senate. Well, judging from Mitch McConnell's comments about Obamacare and the 2018 midterms, Republicans may already have a few ideas about what they'll do if they remain the majority in both those chambers. Spoiler: it may not be good if you're a fan of health care reform.
On Wednesday, Oct. 17, Majority Senate Leader Mitch McConnell spoke to Reuters about the upcoming midterm elections, and revealed some alarming information. According to McConnell, Republicans may try to repeal the Affordable Care Act (ACA), aka Obamacare, again if the party wins enough seats in the U.S. midterm elections. The party attempted to repeal the health care act back in 2017, but failed to do so. While speaking to Reuters, McConnell said that the future of health care will depend on the next few weeks, but Republicans are definitely considering another attempt at repealing Obamacare. He said,
If we had the votes to completely start over, we'd do it. But that depends on what happens in a couple weeks ... We're not satisfied with the way Obamacare is working.
Naturally, news that the ACA may be in jeopardy once again concerned Democrats, who have said the Republicans' alternative health care plan hurts the middle class by providing less coverage and attempting to dismantle Medicaid, which assists low-income families, the unemployed, veterans, etc. The ACA is intended to help more Americans access health care through a variety of measures, including tax credits for insurance plans, Medicaid expansions, and requirements for individuals to have coverage. It also changed the regulations around health care plans on the market to make them more consumer-friendly, including by requiring plans to cover people with pre-existing conditions and ensuring that preventative care is covered. Following McConnell's interview, Senate Minority Leader Chuck Schumer took to Twitter to urge the public to take McConnell's words seriously, and warn voters that there could be serious consequences to repealing the act.
In 2017, Republicans made multiple efforts to repeal the ACA, including via the American Health Care Act (AHCA) that spring and through the Graham-Cassidy bill in September, which marked the fourth attempt to repeal and replace the ACA that year. Republican plans have been criticized for allowing states to opt-out of requiring coverage for preventative care, as well as for allowing insurers to charge people with pre-existing conditions more. The Graham-Cassidy bill failed in September, when it did not come to a vote.
However, it looks like Republicans haven't lost hope, and are thinking of going after the ACA for a fifth time.
Republican Senate members aren't the only ones championing to repeal Obamacare, either. President Donald Trump has also openly criticized the health care legislation despite the fact that 20 million Americans have received health insurance coverage thanks to it. In October 2017, Trump ended payment subsidies under Obamacare, weakening the legislation.
That same month, Schumer spoke to The Hill about the future of health care and the ACA. According to Schumer, he and the rest of the Democratic party would be open to stabilizing a health care system both parties agree upon, but he's told Trump another attempt to completely repeal Obamacare was "off the table." He said,
The president wanted to make another run at repeal and replace and I told the president that's off the table. If he wants to work together to improve the existing health care system, we Democrats are open to his suggestions.
Well, if there wasn't already enough proof that so much can change in a year, this is just further evidence. For those who want to know how to protect Obamacare, there's really only way: vote. The midterm elections take place Nov. 6, but it'll take a lot of hard work if Democrats hope to flip the Senate and gain the majority. Currently, 26 of the seats up for election are held by Democrats, which means party members not only have to defend their seats, but also flip seats in the handful of Republican-held seats up for election in order to gain control.
The future of the United States' health care system is up in the air once again. There's only one thing to do now: head to the polls.