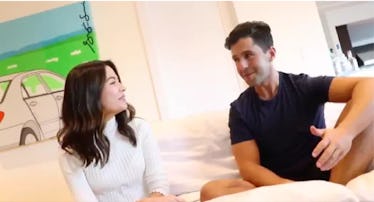 Miranda Cosgrove & Josh Peck Had An Epic 'Drake & Josh' Reunion
Twitter / David Dobrik
Kids raised on Nickelodeon shows in the early 2000s were heartbroken when online conflict began between Drake & Josh stars Drake Bell and Josh Peck last year. Peck didn't invite his onscreen brother to his wedding and Bell tweeted about the snub, but since that drama went down in June 2017, the two have seemingly reconciled. However, there's no bad blood between Peck and another member of the Nichols-Parker clan. Miranda Cosgrove and Josh Peck had an epic Drake & Josh reunion, and I have my fingers crossed that they can put any feuds behind them and start a prank war with Bell ASAP.
In his most recent video, YouTuber David Dobrik tracked the process of organizing this reunion between the former co-stars, who hadn't seen each other in about four years. After getting in touch with 25-year-old Cosgrove via a DM, Dobrik brought her to see his friends, who understandably fangirled over her lengthy resume that basically sums up any '90s kid's childhood. Dobrik, who frequently appears in vlogs on Peck's own YouTube channel, then staged the pair's reunion, presenting expectant father Peck with a baby toy. Dobrik then told Peck, "It's actually not from me. It's from your sister."
Excuse me while I squeal over how quickly Peck realized what he meant. Once your TV family, always your TV family.
After wondering why Cosgrove looked so grown-up (same), 31-year-old Peck poked fun at Bell's tweets about his lack of a wedding invite. When he realized he wasn't invited to the ceremony, Bell took to Twitter last year to officially cut ties with Peck. Thankfully, the two worked things out, and Peck played it safe when he told friends about his wife's pregnancy this summer and included Bell's reaction in a compilation video. In that clip, the two even joked about both of them having kids who could star on a TV show together. Fingers crossed, but maybe this kid will grow up knowing his or her Uncle Drake after all.
Still, brothers won't let each other forget their awkward moments easily, and Peck humorously told Cosgrove, "Sorry for not inviting you to my wedding...thanks for not tweeting about it."
Of course, it isn't a true Josh and Megan moment without a prank. When Cosgrove gave him another gift, Peck opened it just in time to receive a classic pie in the face. Megan!
Cosgrove snuck in references to her own character during the meeting too, calling Peck a boob both in the video and on Instagram. Dobrik also posed with the two in a photo, so if you're super upset about this Drake & Josh reunion missing its third cog, you can just squint and pretend he's Bell. It's not quite the same, but imagining will work until Nickelodeon hops on board with the thriving revival trend. We need a reunion series for the Drake & Josh's 15th anniversary next year, right?
To watch Peck and Cosgrove's entire meeting as well as Cosgrove expertly dealing with Dobrik's starstruck friends, check out the vlogger's full video below. Meanwhile, I'll be pitching scripts for a Drake & Josh "where are they now" special.