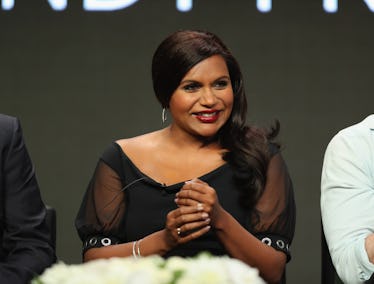 Mindy Kaling's Show 'Champions' Dropped A Trailer & You'll Be Laughing From The Start
Joe Scarnici/Getty Images Entertainment/Getty Images
My love affair with The Mindy Project was fast and furious. I started binge-watching the Hulu series last spring and finished the entire show just weeks after its finale was released. Frankly, I'm just disappointed that I didn't jump on the bandwagon sooner. If you're like me and in serious withdrawal from the title star's sense of humor, we're in luck: Mindy Kaling's Champions trailer has been released ahead of its March debut on NBC, and it's loaded with familiar faces.
Kaling took to Instagram to share the trailer for the upcoming comedy series, which she created with her Mindy Project co-executive producer Charlie Grandy. Keeping busy lately with her newborn daughter and her role in the upcoming A Wrinkle in Time, Kaling will play recurring character Priya on Champions, but she's left the show's main role in good hands. Anders Holm, who played Mindy Lahiri's one-time fiancé Casey on The Mindy Project, stars as Vince, a womanizing gym owner who has just discovered that his high school fling with Priya resulted in a now-teenage son, Michael. With musical theater dreams in mind, Michael comes to Vince's New York City home to live with and get to know his father.
Also appearing in the trailer is Fortune Feimster, who appeared on The Mindy Project as nurse Colette in the show's last three seasons. In Champions, she plays Ruby, a childhood friend of Vince and his brother Matthew. Write in a role for Ike Barinholtz (or just an alternate universe's Morgan, TBH) and we could see a perfect Mindy Project reunion on this show!
Firstly, I can't help but laugh over the fact that pop culture-savvy Michael is basically The Mindy Project's Leo all grown up.
That may be where any similarities between the two shows end. Kaling's Priya seems way more grounded than the fictional Mindy was, which isn't very hard for a character to achieve.
Although he may start the series as the typical TV trope of a freewheeling bachelor, I'd bet that Holm's character has a major attitude adjustment as the season progresses.
The series itself is a huge adjustment for actor J.J. Totah, who plays Michael. Speaking to reporters at the Television Critics Association press tour, the former Disney Channel star is taking pleasure in the little blessings of network TV:
Not having so many hard restrictions as an actor is so cool. There's a lot more improv I can do. I can even say, 'Oh, my God!' I used to stop at 'Oh my' [at Disney]. 'God' is real on NBC. You can say it.
I also wouldn't be surprised if more Mindy Project alums made guest appearances on the show. Barinholtz has jokingly echoed my feelings in wishing that Morgan had a place in this new world:
Plot twist: Priya introduces Vince to her new boyfriend, aka Chris Messina?
Holm, who also created and starred on Workaholics, recently shared a behind-the-scenes look on a table read for the show.
During the show's segment at the press tour, Grandy also praised Kaling's commitment to the series throughout her maternity leave:
She was breaking stories before the baby was born and continues to comment and give notes on every cut. It doesn't feel like she's been gone. A comedy show with a diverse cast is a great way to explore issues in a network sitcom format.
Champions plans to incorporate storylines revolving around issues facing women and LGBT people. I'm totally pumped for Kaling and her production team to casually take over the universe with their new show and any projects that follow.
Champions premieres on Thursday, March 8, at 8:30 p.m. ET on NBC. Until then, I'll be watching this recap of Mindy Lahiri's confidence at its best.