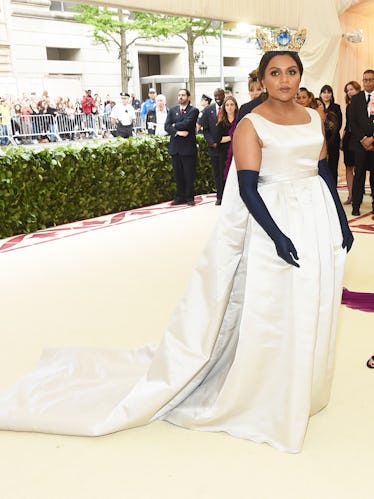 Mindy Kaling Wore A Crown To The Met Gala & She Looks Like A Princess
Jamie McCarthy/Getty Images Entertainment/Getty Images
Mindy Kaling may be known for the over the top looks she wore in Ava Duvernay's A Wrinkle In Time, but when it comes to the red carpet, she's known to play it safe. She loves fashion and evening wear — but since her 2013 debut on the carpet, she's one of the attendees who eschews the theme presented, preferring to arrive in something "red carpet worthy," and leaves the experimental to others. Mindy Kaling's 2018 Met Gala look follows that same idea, going for a white and blue princess theme, but with a crown for the ages.
This is Kaling's fifth year on the carpet. Her first was the infamous year Anna Wintour dared everyone to wear punk-inspired pieces. Kaling went for a pretty in pinkish violet floor-length gown designed by Lela Rose. Talking to Us Weekly, she said the high-end editorial stuff wasn't for her. "I wanted to let the models rock the really editorial stuff, and I wanted to be really friendly and look really pretty."
Since then, her go-to designers have been those who stick to the "pretty please, we're red carpeting" style. From Prabal Gurung to Tory Burch, she keeps it clean and simple, with column gowns and sequins. The chances she'll show up to tonight's "Heavenly Bodies" themed carpet dressed like God himself never thought to intend were remote to begin with.
Kaling's gown by itself is not really all that remarkable. Its' designed by Vassilis Zoulais, and he's known for conservative yet classic gowns like this one. This fits directly into Kaling's comfort zone over the last few years, but for the first time also speaks to the theme of the evening (without going all that daring in the actual garment).
Where Kaling takes risks are in the gloves — which go all the way up — and the headpiece. There are a lot of women tonight who opted for the sunburst headpiece for their gowns. Mindy wasn't going half measure though. Her crown could compete with Netflix's show of the same name.
Fans of Kaling mighthoped for her to follow in the footsteps of Mrs. Who from A Wrinkle in Time, but there's not way she would have risked something that over the top. Instead, it was another film she's going to be starring in very soon which might have inspired her to be a little more daring than her first few years on the carpet. She's part of the crew that stars in Ocean's 8, which is hitting theaters on June 8, 2018. It's is a film that features the Met Gala red carpet as a major plot point.
Like most of her Ocean's 8 costars, Kaling is already a Met Gala regular. The appearance of those like Rihanna, Cate Blanchett, and Anne Hathaway along with Kaling on this year's red carpet serves as the best unintentional PR boost for the film so far this year. Ocean's 8, for those who haven't seen the trailers, is a a heist film set at the Met Gala.
The question is, will Kaling wear something much like this to the film's in-story red carpet, or will she be at least a little more daring? The clip from the trailer shows her in a golden gown that looks definitely to be a little more on theme than the real-life Kaling would have normally dared.
In terms of Kaling's growth in daring to risk it on the red carpet, this outfit is a huge step forward. It's also one that could definitely land her in the Best Dressed category. It was perfect for this year's event.