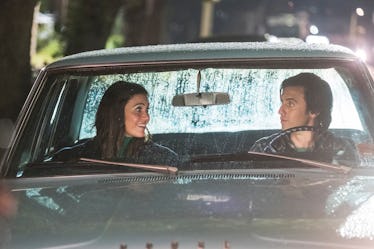 Milo Ventimiglia Revealed The Cutest 'This Is Us' Tradition He Shares With Mandy Moore
NBC / Ron Batzdorff
Who would've thought that former teen dreams Mandy Moore and Milo Ventimiglia would become the couple behind America's favorite love story? On This Is Us, the actors' portrayals of Rebecca and Jack Pearson have warmed our hearts for two years and counting, but the Pearsons' bond is almost as strong IRL. Milo Ventimiglia and Mandy Moore watch This Is Us together, and now someone will need to convince me they're not actual Mom and Dad goals.
Just over a week before This Is Us returns for its third season, Lead Actor in a Drama Series nominee Ventimiglia revealed on the red carpet at the 2018 Emmy Awards that he and his co-star maintain a tradition of watching each new episode together. Speaking to Entertainment Tonight, he said:
Mandy and I have a tradition. We watch every episode together. Every episode, she and I watch it together and we're always crying. It makes us cry as well... The show is a good reminder [of] that human quality that we all have to feel emotions and compassion.
Although This Is Us walked away from the Primetime Emmy Awards with no wins, visions of Moore and Ventimiglia sharing a box of Kleenex during their own watch parties has left me more than satisfied. Moore arguably deserved her own nomination spot in the already very stacked Lead Actress in a Drama category, but her very Jack and Rebecca-esque tradition is a honor about which her peers are certainly envious. Crying over TV with Milo Ventimiglia? Sign me up!
After much of Season 2 was dedicated to present-day Rebecca exploring her complicated bonds with her children, Season 3 has been pegged as a lighter storyline. Instead of jumping right back into the late '90s and the repercussions of Jack's death, the series will present the early days of Jack and Rebecca's courtship. The third season's premiere episode, "Ave Maria," is expected to pick up exactly where the Season 1 finale flashback of 1970s Jack and Rebecca making eye contact across the room ended. Rumor has it that they hit up a carnival together, but so soon after Jack's return from Vietnam and the presumed loss of his brother, he may balk at having such a powerful connection with someone else.
While we'll get to focus on the fluffiness of Jack and Rebecca, their modern-day equivalents of Randall and Beth will wade through a rough patch in the new season. While on the red carpet, fellow nominee Sterling K. Brown revealed that the pair will struggle with new obstacles, but he firmly denied any chance of Randall and Beth breaking up. His hint comes after many fans suspected that the "her" mentioned in Randall and Tess's flash-forward finale scene was a dying Beth. Well, now that the mystery of Jack's death is solved, we have to start over-analyzing for something.
As for Mama and Papa Pearson, Moore and Ventimiglia aren't shy about live-tweeting monumental episodes. Now knowing that they're likely bouncing tweet ideas off each other, I have my fingers crossed that we'll have some photographic insight into these special nights this season. Are Crock-Pot dinners included?
Season 3 of This Is Us premieres on Tuesday, Sept. 25, at 9 p.m. ET on NBC.